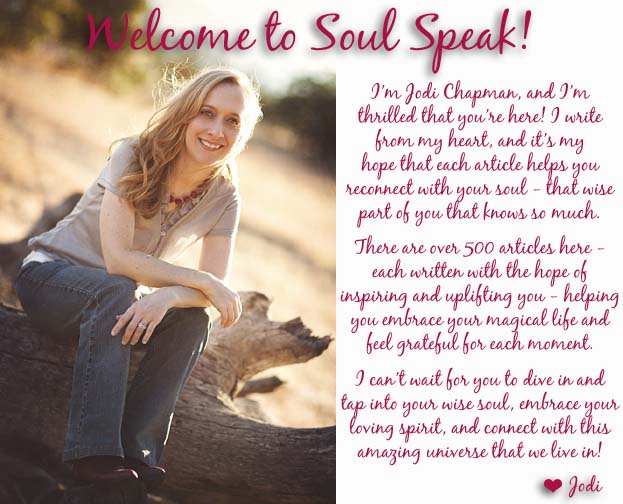 Soul Speak was born in 2011 out of my need to explore some of the inner urgings that I had ignored for many years. I had heard my soul whispering to me, but I hadn't really paid much attention to it.
After a spiritual awakening in October of 2010 (the entire story is in my upcoming book, Coming Back to Life: How An Unlikely Friend Helped Me Reclaim My True Spirit), I completely opened up. I could no longer look at life in the same way. I could no longer accept that my half-lived life – my numb, just get-through-the-day life – was what I was put on this planet for.
I realized that there was so much more that I needed to share, do, experience, and learn. And I realized that if I was feeling all of these things, others were feeling them, too. Others would be able to relate to what I was experiencing – they would be on a similar journey of their own.
I hoped that we could all come here to support each other. Prior to creating Soul Speak, I was a solo act in most of my life. With the exception of my husband and mom, I rarely asked anyone else for anything. Oh, how that has changed.

Soul Speak has helped me be a part of a community for the first time in my life. I am a part of something greater than myself. We all are. Thousands of us come together every day here on the blog on on the Facebook page to encourage, uplift, and inspire each other – it's so beautiful to be a part of this love and support!
This has become our motto here at Soul Speak:
We are here because we know that there is more out there.
We are here because we are ready to live again.
We are here because we want to bravely share our authentic selves with the world.
We are here because we're no longer satisfied with a life that doesn't give us goosebumps, that doesn't make our soul sing, that doesn't make us want to scream from fear and excitement and passion all at the same time.
We are here because we have chosen to be.
We are here because we are ready.
We are here because it's time to listen to our souls. To really hear what they have to say. And to act on those whispers.
We are here because we can't imagine being anywhere else.
Soul Speak has over 600 articles for you to read. Click here to see them all in the archives.
Here are some of my favorite articles:

365 Book Series – Our collaborative book series that you can contribute to!

Soul Clarity Readings

– every 1st of the month, I offer a free Soul Clarity reading to anyone who leaves a comment on my blog. So definitely subscribe now to make sure you don't miss it! Hundreds of readings are given each month, and it's always so much fun!
A Year of Silence – Throughout 2015 I embraced a year of silence. I'm currently writing a book about this experience, which I look forward to sharing with you!
Soul Clarity Cards

– I created these cards as a fun way to reconnect with your inner voice. I use them every day and would love for you to use them, too!

Soulful Journals – My husband and I have written 16 books together for this series – from topics ranging from the law of attraction to gratitude to relationships. I would love for you to check them out!
Soulful Ecourses – My husband, Dan Teck, and I have created many soulful ecourses! You can see all of them here (along with many others from the Soulful Life Sanctuary).
I thank you from the bottom of my soulful heart for being a part of this community. Your love and support never ceases to amaze me. You have welcomed me with open arms, and I will always do the same for you.
Love and so much gratitude!

P.S. – If you would like to learn more about me, please click here.
P.P.S. – Soul Speak comes from my heart and is here to support you in living your best life – reconnecting to your soul, feeling more empowered, and reaching your dreams. Please know that it is not a replacement for therapy or medical advice though. If you are feeling like you could use some extra support, I would strongly encourage you to seek out a professional in your area.