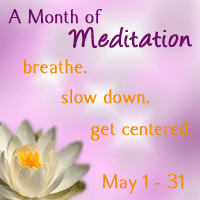 Thank you for joining us for A Month of Meditation!
Welcome to Day 11!
(If you haven't read what it's all about, please click here first.)
I'm so proud of all of us for showing up for ourselves. For knowing that our soul craves this moment of stillness in our day, and for taking action to make that happen. So let's all pat ourselves on the back for that!
Each day, we'll click on that Day's page, and we'll leave a comment stating that we meditated on that day. That's all!
If you would like to write more, that's definitely welcome. It would be really great if we could share about our experiences, too: how we meditated, how long we meditated for, and what the experience was like for us.
Many of us will be using the Re-Awakening Guided Meditation Program, so we can share our experience with that as well.
I'm so excited to get started!
Being a part of a supportive community is half of the fun, so please be sure to check in daily.
Now…let's go meditate!
P.S. – Please remember to post the artwork on your blogs and share it on FB and Twitter! You can find sample tweets here.