Welcome! I'm so happy you're here!
I'm so happy to offer you my Journaling from the Soul Ebook for free!
It contains 100 prompts to help you reflect and get in touch with your inner voice!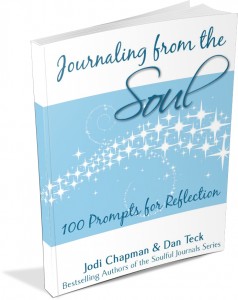 Here are a few examples of the writing prompts:
♥ Would you say that you're a dreamer, a seeker, a believer – or a bit of all three? How so?
♥ Do you practice self care at work? What are some things you do to create a space that nurtures you?
♥ What is something concrete that you can do today to fully embrace life?
♥ What one life experience most shaped you into who you are today?
♥ What makes your soul sing?
♥ Describe your ideal day.
♥ If you had to describe yourself to someone, what words would you use?
Remember, the answers have always been inside of you. And the process to get to those answers is powerful, enlightening, and also fun!
You can download this free ebook by entering your email here:
In addition to receiving the free ebook, you'll also be subscribed to Soul Speak! I write from my soul and it's my intention that each post will fill your soul with love and inspiration. (You can unsubscribe at any time.)
Big hugs,