I absolutely love helping you connect with your soul through ecourses! They are such a fun way to tap into your inner wisdom and plug back into life!
Keep reading to view all of the courses that are currently available.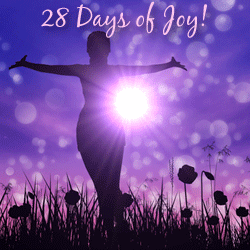 If you're ready to bring more joy into your life, please join me for the 28 Days of Joy Ecourse! 
My husband, Dan Teck, and I created it because we believe that you can never have too much joy in your life. We wanted a joy booster in our own lives, and we wanted to share what we created with you, too! Why not spread the joy?
Click here to learn more and join us!

This 6-week course includes: a 250-page soulful workbook, 34 contributors, six heartfelt guided meditations, over 10 hours of heartfelt videos, soulful artwork, and a private Facebook page!
We all have a light inside of us that shines so brightly, and this beautiful ecourse will help you remove some of the veils that have been covering your light. Isn't it time you allowed yourself to shine? To live fully? To feel completely alive? Isn't it time for each of us to allow ourselves to have that?
If your Soul is jumping up and down saying YES, YES, YES…then please click here to learn more and join us! 
Do you ever feel frazzled, unbalanced, or disconnected from yourself?
Are you ready to slow down, reflect, and really get to know yourself—
your true, authentic, radiant self?
If so, the Soulful Journaling Ecourse is the perfect tool to help you get the most out of your life! 
I co-created this 4-week course with my wonderful husband, Dan Teck. It contains writing prompts and exercises, videos, and audio meditations to help you connect with your inner wisdom and your most authentic self.
Whether you'd like to begin journaling or deepen your existing practice, this course opens a door to self-discovery, creativity, personal growth and enrichment, and a path home…to YOU!
Click here to learn more and sign up!
(You'll receive your first week's lesson within an hour of signing up!)
Are you tired of being alone—or feeling alone (even if you're in a relationship)?
Are you ready for spine-tingling,
heart-throbbing, soul-shaking love…
that lasts a lifetime?
Whether you're looking for a new love or want to deepen the connection you already share with your partner, this course will guide the way to your ideal relationship!
Through engaging written lessons and exercises, heartfelt videos, and audio meditations, this 4-week ecourse will help you discover how to love yourself, heal from past relationships, clarify your vision so you can bring your ideal partner into your life.
Click here to learn more and sign up!
(You'll receive your first week's lesson within an hour of signing up!)
Have you ever wondered how soul-based business owners make a living?
Do you have your own business and just aren't sure how to take it to the next level?
Or are you thinking about starting a business but aren't sure where to begin?
I would love to support you in creating and running a business that fills your heart, nourishes others, and feeds your pocketbook!
For this reason, I am creating this Soulful Business Tips Video Class!
Click here to learn more and register!
If you have any questions about any of these courses, please email me here: jodi@jodichapman.com.
Here's to all of us being part of this soulful journey together.
Big hug!