Tired of Feeling Numb and Disconnected?
Ready to Wake Up and Start Living Fully?
Life can be painful. And oftentimes, this pain piles up on top of our soul – dimming our light and disconnecting us from our hopes and dreams. This disconnection from ourselves and the universe happens so gradually that we often don't even realize it. And then we wake up one day and wonder how our life turned out the way it has. We feel lost and sad and aren't quite sure how to find our way back.
Does this sound familiar?
If so, I get it. I've been there.
Thankfully, I had a friend wake me up and show me that there was another way.
He offered me a helping hand and a guiding light out of this darkness.
And that's what I hope this course will be for you: a helping hand, a set of tools, and a community to support you when you are feeling numb and unsure of which way to go. My hope is that it will guide you back to that wise part of yourself – the part that is always connected to everything: your soul.
You can begin to live fully again.
You can embrace your truth and let your light shine.
It's your time to come back to life!
If you're ready, please take my hand and read on!

♥ live fully and love fully?
♥ take responsibility for your life?
♥ push past your fears and reach your dreams?
♥ forgive, let go, and move forward?
♥ see the world with childlike wonder?
♥ reconnect with your soul and let that wise part of you take the lead?
♥ believe in miracles again?
♥ open up to this amazing universe around you?
♥ be completely authentic and vulnerable (in a good way)?
♥ join a course that comes from the heart and soul?
♥ come back to life?
If your Soul is jumping up and down saying YES, YES, YES… I am Ready!
Then read on…

In this course, we will spend six weeks together journeying back to our soul. We will start right where we are and begin to peel away the layers of gunk that have kept us from shining our light as brightly as we would like to. As we remove each layer, we will begin to feel lighter and freer.
Your journey starts exactly where you are – right now in this moment. Throughout this journey, each week you will receive a bundle of love in your inbox. Each email contains helpful guidance from me and other dear hearts who know what it's like to be in this space of feeling disconnected from our soul and want to help. Each week will build upon the last, guiding you back to yourself and helping you come back to life.
Our light shines so brightly within us. That all-knowing part of us never fades – it just gets covered up by pain and fear. Throughout this course, you'll be uncovering this pain and allowing your light to shine. You'll be reconnecting with your soul – your deepest, truest essence. And you'll be saying yes to life again.
What does the course include?
♥ Over 250 Pages of Love – Including Weekly Lessons + Soulful Activities. This is where you get to show up for yourself. This is where you get to reconnect with your soul and discover who you are deep down at your wisest, most loving core. Each week comes with its own set of soulful writing prompts and introspective exercises to help you tap into your own light so that you can begin living more fully.
♥ Over 100 Pages of Bonus Workbooks / Worksheets! 
♥ Over 40 Heartfelt Videos – More than 10 Hours of Guidance! Each week includes at least six videos – two from me sharing that week's message, at least one from an inspirational soul sharing their own coming back to life story, and at least one designed to teach, inspire, and offer concrete tools that you can apply to your own life.
♥ Six Guided Meditations. Each week contains a guided meditation that is specific to that week's message. They are grounding and calming, and I find them to be so helpful.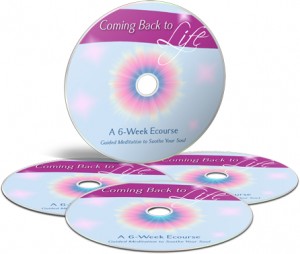 ♥ Beautiful Offerings from 34 friends Who are Also on This Journey of Self Discovery. Each week is filled with heartfelt messages from dear friends who are on similar journeys and are brave enough to share their experiences with you. Whether they share their stories and inspirational messages through video, audio, artwork, or writing – they all serve the same purpose: to help lift you up and see that you are not alone. We have all experienced the darkness, and we can all open up to the light.
♥ My Guidance/Story. Throughout my life, I have found that I like to have things modeled for me – it helps me retain what I'm learning if I can see how someone else implements it in their own life. With that in mind, each week includes my own experiences and what I have learned along the way. I also share my own coming back to life story – 20 pages where I share my spiritual awakening with you.
♥ Soul Art. I have designed printable posters to go with each week's message. Perfect for hanging up around your sacred space and filling your soul with love each time you see it!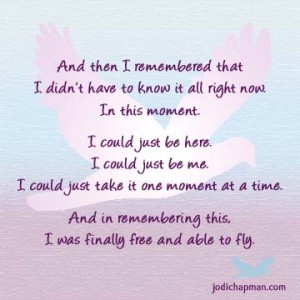 Throughout this journey, we will begin to reconnect with our soul – the wise essence inside of us that always has the answers.
We will get to know this part of ourselves intimately – possibly for the first time in our lives. We will begin to trust this part of ourselves and remember that it is this part that always connects us to the entire universe. And we will begin to feel truly alive!
What are the weekly topics?
♥ Week 1: Starting Where You Are
Honoring where we are opens the door to where we are going. Each journey begins with one single step forward – one step towards faith.
In Week 1, we spend some time exploring where we are starting from. We pat ourselves on the back for being brave enough to begin such a powerful, life-changing journey. And we clear the way for lasting transformation to take place.
♥ Week 2: Getting Real
Being truly honest with yourself opens the door to a beautiful new life – an authentic life where your soul gets to lead the way.
In Week 2, we recognize the importance of pure authenticity when reconnecting with our soul. We stand strong in who we have become, and we honor our past – while at the same time, we recognize that our present moment can be anything we want it to be. We can be anyone we want to be. And that's so powerful.
♥ Week 3: Letting Go
On this journey, feel free to let go of your pain and suffering and heartache and insecurity and fear. You won't be needing them where you're going.
In Week 3, we spend a lot of time healing, forgiving, and letting go. We leave behind anything that no longer serves us – anything that will hinder us from soaring toward our dreams and reconnecting with our soul.
♥ Week 4: Opening Up
Look around. There is magic everywhere – in the sky and on the earth. Open up to it. Breathe it in. Be one with the miracles that have always been and will always be there.
In Week 4, we open up to the spiritual, magical world that has always been around us. We look for signs. We tap into our own intuition. We practice being still. We embrace the feeling of being completely open to it all.
♥ Week 5: At the Heart of it All
At your core, you are pure love. We all are.
In Week 5, we drop into our core and recognize that we are all love. We honor the love within ourselves, and we embrace the love in others. We rejoice that we are no longer alone. We are completely surrounded by love.
♥ Week 6: Leaping and Dreaming
And then we realized: our dreams have always been one leap away. And all we had to do was surrender, trust, and jump.
In Week 6, we push past our comfort zones and fully embrace faith. We leap with abandon toward our dreams. We listen to our soul's desire, and rather than question what it is asking us to do, we just do it!
Week 6 also includes a summary and ways to incorporate what you've learned into your daily lives moving forward. (This isn't the end though; it's really just the beginning…)
My intention behind creating this course is for you to:
♥ feel more in touch with your inner wisdom, where before, perhaps you had almost given up on ever knowing this deepest, wisest part of yourself.
♥ let go of whatever chains are keeping you from flying.
♥ embrace this new world that seems so much brighter and filled with joy – and to jump into something that you've never experienced before.
♥ leap into faith – knowing that the universe will always catch you.
♥ connect with others who are on a similar journey – to really meet them at the soul level and honor that sacred space within each of you.
I can't wait to get to know you better and meet you at the soul level. My soul is jumping up and down just at the thought of it!

It's such a special treat that these 34 amazing souls and friends all share their hearts with you inside this course! They all know what it's like to be feeling disconnected, and they each found a way back to themselves. And I love that they share their stories with you here!

♥ I was privileged to participate in the Coming Back to Life course offered by Jodi Chapman during the fall of 2012. The course is overflowing with insight, talent and love. These golden nuggets were then offered in the most honest and heart-opening way to the group on a weekly basis, allowing us to explore the material at our own pace. I loved the videos from those who have worked so hard to hone their life skills. They were non-threatening and full of spirit and love. The insights I gleaned from this course are invaluable. The friendships I made will remain precious to me. Jodi has built a community where people can gather and share without fear of rejection or judgment. That community remains open to me as I continue to learn from the materials and find my way back to life. I just want to thank Jodi and all the other beautiful souls who have made this course an amazing success. Thank you a thousand times! – Leah Griffith
♥ The Coming Back to Life Ecourse was an amazing journey that I would recommend for anyone at any stage of personal growth.  I found the course packed with information, videos, exercises, readings, and encouragement, all of which could be experienced at our own pace.  Jodi has so many contributors who share their heart, and each brought valuable insight. Opening my email at the beginning of each week was as delightful as unwrapping a gift.  But the most significant advantage I found was the support available – almost 24/7.  The Facebook community Jodi set up was fantastic – a place where we could connect and share our successes, our struggles and realize that we are not alone.  Jodi led us gently and skillfully through discussions and online chats that allowed us to apply what we were learning, and celebrate our growth. Did I mention that I loved it all?  Thank you!! – Lori T.
♥ I feel much more self-aware and plugged in to my emotional, mental, spiritual, and physical self. I feel more grounded and ready than ever to face challenges. I've also increased my self-care exponentially since starting this course. I've noticed a positive shift in my self-esteem by being gentle and kind to myself. Thank you Jodi and thank you Facebook community for the love and support. – Kelly G.
♥ The Coming Back to Life E-Course is a catalyst for personal transformation. Jodi poured her heart and soul into creating this offering. She lovingly encourages each participant through a 6-week journey of awareness, reflection and profound healing. If you are ready to revive your precious life, and open fully to yourself in the present moment, register for this supportive journey. – Shann Vander Leek
♥ I don't always stick with this sort of thing – often feeling that I am not learning anything new, but not this time. I have learned so much, and this has been such an authentic time of discovery and sharing that I feel more alive than I have in a long, long time. Jodi, you have an amazing gift for sharing what is real and what is important. Not only has the information been helpful, but your modeling of it really made it come ALIVE! – Nancy Whelehan Leport
♥ The Coming Back to Life Ecourse, developed by Jodi Chapman, is beautiful and life-changing.  I was amazed at the heart, soul and wisdom contained in every aspect of the course – the videos, personal stories, workbooks, meditations, art, and private Facebook group. I think I was most affected by how deeply and authentically Jodi and the other course contributors "showed up" for the group – it was instrumental in enabling us (the course participants) to safely go deep to uncover blocks that have kept us from living life fully in all its brilliance. If you've been sleepwalking through your days and are ready – truly ready – to wake up and embrace life, the Coming Back to Life Ecourse will set you firmly on the path.  And you'll be surrounded by so much love every step of the way. Thank you from the bottom of my heart, Jodi! – With love, Christine Callahan-Oke
♥ I have really enjoyed the wonderful videos, meditations & pdfs full of information! I am so grateful that you, Jodi, have created this course. So many people are going to be changed forever through this experience. So many connections have been made. Wow, what a journey! How exciting! – Julie Smith
♥ The Coming Back To Life e-course is a six-week soulful journey in reconnecting to your authentic self and connecting with others in a compassionate, open and loving community. Get ready to think with your heart!" – Lyndelle Palmer Clarke 
♥ Taking Jodi's Coming Back to Life course is like being led by the hand of an old and trusted friend through any blocks and barriers to joy so you can find the happiness that is in your life to embrace. I highly recommend it. – Tanya Levy, MSW, RSW, CCC
♥ Oh, Jodi Chapman, you are so amazing and I thank you so much for your spirit, for who you are, for your caring so much, and for your heart. This course has really helped me be more aware of myself and see how I connect to myself –  or how I don't at times, and how I show that or not, in the world. And it has been hard at times to face some of this, of course. But it has helped me get more plugged in and realize I need to take care of ME while I care for every other person in the world! I realize that this really is it, my one Life…and I don't want to sleep walk or be on auto pilot! Thank you seems like not enough, but thank you! – Linda Mallory-Gravis
♥ This course has profoundly changed my life and I am so grateful to everyone in it. I was able to show up as I am, from the heart, and be very real and vulnerable. I don´t really do that anywhere else in my life, so this has been a wonderful blessing. Thank you all and thank you so much Jodi. – Anna

Is this course based on any certain religion?
At the risk of outing myself as a major cheeseball, I would say that this course's religion is love. I believe that at the heart of every religion, love is the common denominator. This course does have a spiritual basis though. I believe that we are spiritual beings having a human experience. But you don't have to believe that to take this course. Whatever your beliefs are, I think we all can agree that it would be wonderful to spend our time here on Earth as joyfully and consciously as we are able to. That's the common ground that we all can meet on.
I'm going through a very painful experience, can this course help me?
Definitely! First, I want to say how sorry I am that you're in pain right now. I want to be a loving support for you as you begin to heal and move toward living fully. The content in the course (worksheets, videos, and audios) is all designed to help you open up to your life – your soul – and the universe.
If you are currently in therapy, this course is a wonderful addition to go over with your counselor. I am not a licensed therapist, so I prefer for you to see me as a friend who is here to listen and support you.
I'm super busy, and I'm not sure if I'll be able to keep up each week. Should I still sign up?
Definitely! This course is here for you. You'll receive weekly lessons for six weeks in a row. If you are too busy to look through them, please don't worry! You can download them to your computer and go through them when you have more time.
Is this a self-study course? 
Yes! I originally sold it as a guided ecourse, and now it's sold as a self-study course, which means that you get to go through it at your own pace! Please disregard the part of the video where I mention the Facebook group since this is no longer included. What I love about this course, though, is that there are so many videos inside with so many people sharing their hearts, that it feels like we're all going through it together – no matter when you sign up!
Please email any additional questions that you might have to me at: jodi@jodichapman.com.

Coming back to life is a process.
Sometimes we take one step towards living fully and two steps back. And other times we take two steps towards it and only one step back.
What I know for sure is that it's about living consciously – staying awake and staying open. We don't have to sleepwalk through life. Plugging into life is the best feeling in the world.
Connecting to your soul and allowing that wise part of you to guide is a beautiful way to live.
In this course, I am offering helpful tools and a supportive community to do exactly that. I would love for you to join us! I can't wait to meet you at the heart level, see you reconnect with your soul, begin to feel that spark inside, and start coming back to life. What a wonderful gift to give to yourself!
You can sign up immediately and start taking the course within the hour!
Coming Back to Life Ecourse
Come take this 6-week journey to help you reconnect with your soul and embrace your life again!
I can't wait to take this journey together!