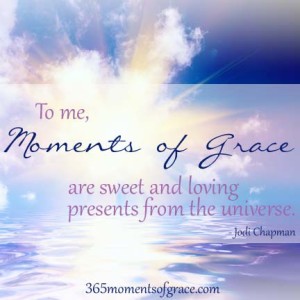 When my husband and I were deciding what our next collaborative book title/topic would be, we quickly filled a list with fun ideas. Our hands flew across the page – trying to keep up with the thoughts that were flowing in. I was so happy with many of the topics, but none of them were jumping out. I said that maybe we should sit with them for a few days and see which one carried the most energy – trusting that one would become the frontrunner.
That is what happened, but (as is oftentimes the case) not exactly in the way I planned. A few days later, the word "grace" came into my consciousness and wouldn't leave. It's not a word that I had given much thought to before, to be completely honest, and it carried such energy with it that I knew it had to have come from my soul.
I kept hearing "moments of grace" in my head, and I soon realized that my soul was giving me our next book topic. It makes perfect sense, too, because this is how inspired ideas come – not from the head but from our heart and soul. Every book idea on our list came from our head, which was a great place to start. That brainstorming session opened the doors for me to hear my soul and receive its input – since I had gotten all of my own ideas out of the way, there was nothing left to clog up the divine flow.
Grace is one of those concepts that is beautifully abstract, not easily definable, and heavenly based. It's one of those words that asks you to sit with it for a little while – to take it into your heart fully and allow it to flow through each part of you so that you can fully comprehend it – and even then, it holds such mystery.
To me, grace is synonymous with miracles. It's evidence of our connection to our soul and to this magical world that we live in. It's both the intangible feelings that we feel when we know that we aren't ever really alone mixed with the tangible signs that we experience every single day. I define grace as presents from the universe that let us know how loved we are, how loving our world is, and how connected we are to all that is. It's a word that's filled with light and love.
Once the book title and topic was formed, I immediately began to think about some of the wonderful grace-filled moments that I've experienced throughout my life.
Some of them were huge:
meeting my husband two weeks after I prayed for him to come
being in a car crash that saved me from living a life without passion or purpose
communicating with loved ones on the other side – knowing that they are always with me
feeling with all of my being that someone/something is always near me – loving me and wanting the best for me
surrendering fully to God/the universe and immediately feeling light and free
listening to my intuition and later seeing how it saved me from going down a path that wouldn't have felt right
And some of them were smaller, yet equally beautiful:
finding a feather or a penny exactly when I needed a sign from my loved ones
looking up at the sky and feeling immense awe and wonder for this vast world that we are part of
watching a butterfly land on my arm and then fly off onto a flower
feeling completely at peace – even for just a moment
waking up from a dream that felt so real and helped everything make sense again
looking into a loved one's eyes and feeling completely seen
sitting on the ocean's shore and feeling mesmerized by the powerful waves
Grace shows up in so many ways, and it's up to each of us to be open to it and to experience these special moments when they arrive. They are constant, and I know that there's so much happening that I can't see or feel or hear or touch. But I also know that there is much that I can – that I do. And even just witnessing a tiny snippet of the grace-filled miracles that are happening all around me all of the time is enough to wake me up, to get me to pay attention, and to help me remember that we truly are all so, so blessed to be part of this world.
I would love to hear how grace shows up for you. We each experience it differently, and yet each experience is equally magical. If you would like to be part of our next book, please click here to learn all about it. There's such special energy around sharing our experiences. They inspire each of us to stay open to our own grace-filled moments, which I just love.
Hugs,