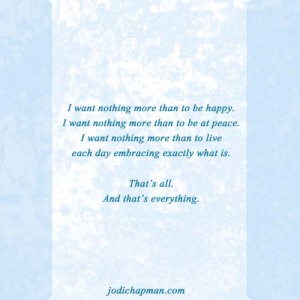 I realized something today. It's something that I've known for quite awhile. It's something that seems so obvious.
It's much harder to find calm in the midst of chaos than to find calm in a state of calmness. 
Duh, right? It seems so simple, and it is so simple. But just because it's simple doesn't mean that we always easily embody and live this truth.
Here's an example: For the last several days, I've been feeling extra stressed. I've been feeling tightness in my chest. I've been having a harder time taking a deep breath in. I've been resisting doing my daily meditation – thinking that I just didn't have time. I've been feeling the weight of a too-long to-do list. I've been feeling scattered, overworked, and overwhelmed.
And then, just now, as I was logging into my computer to get some work done, I saw a wonderful visual that feels like the perfect metaphor for this state that I'm in. My computer desktop was filled with icon after icon – taking up the entire screen (and even going beyond it). Each icon related to work and represented something that I needed to do, projects I am in the middle of, things to remember, etc.
Underneath all of these many, many icons was a picture that I could barely make out. It's a photo of a beautiful beach, which is my symbol for calm, serenity, and peace:
This was such a perfect visual glimpse into my mind and into my life. Without even realizing it, my priorities have gotten way out of order. I have allowed work to consume me and take precedence over my own self care, my own needs, my own well being.
Instead of the expression, "The writing's on the wall," I can say that the icons are on the screen!
It was so helpful for me to see this in full color. It sunk in deep within my soul and helped me see that I'm just not okay with having my own inner peace be buried underneath all of these tasks.
My inner peace should take center stage. It should be at the forefront of my mind and my life and of everything that I do. Everything else must, must, must come after that. 
So I immediately began to rectify this chaos by cleaning up my desktop. And while I still have the projects that I'm working on, and I still have the long list of things to do, just seeing my beautiful beach uncluttered and front and center helped me breathe again: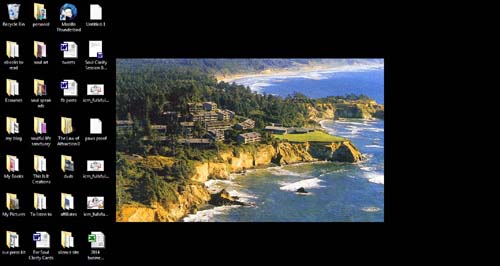 It's my hope that this reorganizing will move off of the desktop and into my life. If nothing else, it will serve as a wonderful reminder for me to make sure my priorities are in check each time I open my computer.
I want to feel calm. I want to feel at peace. I want to feel like I am putting my own wellness and happiness at the front of the line in this life of mine. And seeing this beautiful beach front and center each time I go to work is a great way to make sure I continue doing exactly that.
How about you? What are some ways that you can remove some of the clutter so that you, too, can embrace a calm, peaceful life?
We all deserve that and so much more.
Hugs,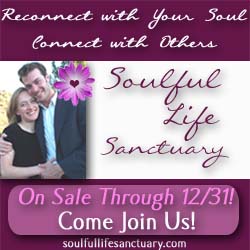 P.S. – I have some VERY exciting news! Membership to the Soulful Life Sanctuary is on sale through the end of the year! And the next 20 people who join will receive over $1600 in welcome gifts (donated by fellow sanctuary members)! These gifts include intuitive readings, coaching sessions, numerology sessions, and so much more! You can see all of the gifts, learn more about the sanctuary, and sign up here: http://www.soulfullifesanctuary.com