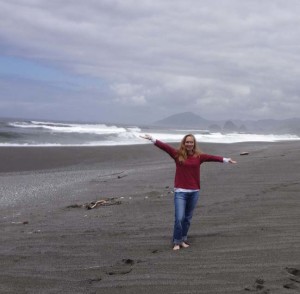 Like most of us, I have many dreams that I want to bring to life. I spend countless hours visualizing them coming to fruition, fully immersing myself in them, and living right smack in the center of them. When I go to sleep at night, I dream about them. And when I wake up in the morning, they are the first thing on my mind.
After  many, many years of one dream after the other, I pretty much have the whole dreaming part down by now.
However, I also have a huge side of me who loves to be safe and comfortable and live in the known. While my dreaming side is carefree and whimsical, this side is more practical, cautious, and thorough. This side wants things to be all lined up in neat little rows before I leap. It wants a big sign to appear, letting me know that it's the absolute perfect time to bring this dream to life.
So what usually happens is that I constantly teeter between each side. I dream, dream, and dream. And then I question, pull back, and stay where I'm comfortable. And then I dream, dream, and dream some more. And again I question, pull back, and stay where I'm comfortable.
This usually goes on for a very long time – until eventually I get so fed up with this back and forth struggle that I leap anyway and pray that I'll land on my feet.
I've been experiencing this so much over the past year. My husband and I went to the beach last summer to celebrate our anniversary. We both feel the most alive and the most ourselves when we're near the ocean. When I am there, I feel like I can exhale more deeply than in any other place. I breathe life in and feel completely invigorated. When we came home, we promised ourselves that we would find a way – sooner rather than later – to move there full time.
We began researching where we wanted to go and immediately found the perfect spot. I printed out beach pictures from our trip and created a vision board that would remind me of our intention each day and inspire us to make it our reality. We began to go through our things – separating them into what we wanted to bring and what we wanted to donate. We began searching for a home and trusted that the perfect one would appear when the time was right. We were on track and completely in alignment with our dream, which felt so good.
But then life took over. We got busy with work. We rescued a dog who needed a ton of extra care and eventually found her a forever home. I became really ill and needed to lie down for much of the time. Our dream no longer seemed feasible – at least not for now. Our heads told us that that it was probably best to set this dream aside. So, with deflated hearts, we stopped packing and put away the travel brochures – knowing that the beach would be there when we were ready. And we got back into our everyday routine again, which now had a heaviness and darkness to it. I told myself that it was for the best and that it would just be too much right now to move. There was too much work to do and too much "life" to do – it wasn't the right time.
So we started looking at the calendar to see when the right time would be. And we went month after month after month after month and realized that if we waited until the perfect time, we would never ever move (or reach any of our dreams). We were always going to be busy. We will always have books coming out and work that needs to be done or holidays to participate in or birthdays to celebrate or this or that and that and this through the end of time.
Wow. What a wake-up call this was.
There is never a perfect time to leap into your dream. 
Which means that every single moment is as good as any to take the leap. 
Most likely, the stars will not align in perfect order and give you a clear sign that the vortex has opened up and give you an hour/day/month/year when you should make your dream come true.
What will probably happen is your soul will continue to whisper that it's time and let you know that you're ready. What will probably happen is that you'll get to a point where staying in your comfort zone will become more uncomfortable than leaping into the unknown. What will probably happen is that you'll feel on a very deep level that, while it doesn't make any kind of rational sense, you know that the time is now to bring your dream to life. You'll know it. You'll feel it. It will become such a part of you that you can hardly think of anything else.
When you reach this point, you won't care what the calendar says or what's on your schedule or what your friends think about it or what your mind says about it. When you reach this point, you will have reached the point of no return – you will have gained so much momentum that's leading you toward your dream that there really is no turning back. You'll have the universe, your spirit guides, the angels, and your soul all on your side – cheering you on and lovingly pushing you forward. You'll be able to feel it – and slowly, all doubt and questioning and caution will disappear.
This is where I am right now with this move. My soul says that the time is near. And while my head still isn't completely on board, I've learned to trust my soul when it is this emphatic. It hasn't steered me wrong yet.
So, while the details aren't worked out and while I have no idea what the specifics are, I do know this: sooner rather than later, I will be moving to the beach, and I will bring this dream to life.
And that excites me beyond anything I can imagine.
I invite you to open up some space for your own dreams as well – to remember that the timing may never seem perfect to your mind, but the time to leap toward your dreams is always exactly right within your soul.
Hugs,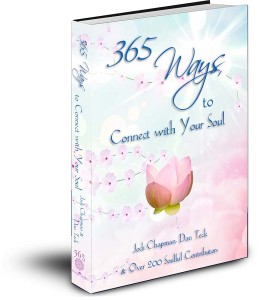 P.S. – I'm so excited that our 365 Ways to Connect with Your Soul book is out! This is such a special book, and I can't wait for you to read it! You can learn all about it (including seeing a preview of the 100+ gifts that you'll receive when you order it) by clicking here!