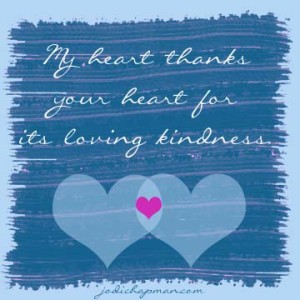 I was just thinking about how different my life would be without any of you. I was thinking about what it used to be like before the internet and before blogging and before social media and before we had the ability at a moment's notice to connect with each other — no matter where we were in the world.
Over the last few years, we've all witnessed a coming together that is unlike anything we've experienced before. We have the ability to communicate and connect with each other in ways that were impossible before — we get to connect so easily and quickly at the soul level, and we get to see just how alike we truly are. I see this as an absolute miracle — something that I feel grateful for each day.
Not so many years ago, the only friends that I had were those I had met in person — those either I went to school with or worked with or knew through other friends. And now, like most of us, I have friends from all over the world. This new way of living opened up vast possibilities and helped us find our soul tribe — those who are on the same vibration and who see the world in similar ways – those who feel like home.
Not only has my world expanded through these loving connections, but my soul has, too. I have stepped into who I always was because of these connections. I have learned so much about myself and our universe and others through these connections. I have created a career that I love because of these connections. And I am living my dream life because of these connections.
It's sort of mind boggling to think about how much we've all changed in such a short amount of time, isn't it? Not all that long ago I was working in an office editing documents that I didn't really care about, and now I get to share from my heart and spread love around the world. And I owe a great deal of where I am today to each of you. I know that. And I never ever forget that.
It's always been my heart's desire to show up completely as myself here with the hopes that it will help another do the same in their own life. And it hasn't always been easy — being vulnerable never is. But I do it because my soul has asked me to. And I do it because it feels so good when I see others sharing their truth, too. We are on the leading edge of an amazing world shift — I can feel it. We're entering a time where love trumps hate and where collaboration trumps competition and where authenticity trumps wearing a mask. We're already there in so many ways. We're proving that we can run our businesses with heart and still be successful. And we're modeling what conscious living looks and feels like — we're showing that not only is it possible, but it's completely wonderful to show up in the world in this way.
It's pretty phenomenal to be right here where we've never been before, don't you think? I am so excited to see where all of this connection and expansion leads. And for now, I'm just so grateful for each of you for continuing to listen to what I share and for continuing to show up here from a space of love.
We're in this together, and I'm forever grateful.
If you would like to continue this conversation of Conscious Collaboration, please be sure to connect with my dear friend, Sue Kearney. We've known each other for years, and she has such a lovely soul and a huge heart.
She has two generous offers for the Soul Speak community – both of which are free!

Sue has created an ebook that she's giving you for free!
It's called Share Your Magic on Social Media: How to Grow Your Tribe, Your Connections, and Your Business Through Conscious Collaboration.
In it, she shares her three allies to help you grow your business through conscious collaboration: gratitude, generosity, and willingness — each of which help shift your mindset and improve the way your social media marketing works for you. It's a great toolkit to have — whether you're just starting out or have had your own business for a long time!
Sue has created a new Facebook group for women who would like to connect and collaborate! It's completely free to join, too!
It's called Conscious Collaboration, and it includes a diverse group of women changemakers, healers, and business owners who are gathering to intentionally help each other to grow their reach, connect with ideal clients, and thrive in business.
Here's to each of us continuing to support each other through authentic collaboration and soulful expansion!
Hugs,