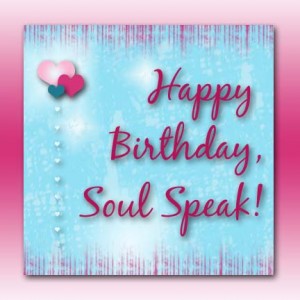 Today is a very special day. Soul Speak turns 3!
I am so happy to celebrate this milestone with each of you!
I had absolutely no idea how much my life would change because of this blog. I had no idea how my heart would open. I had no idea how my soul's purpose would be discovered.
It has been a journey of soul discovery, soul listening, and soul connecting. And I'm so grateful that we're on this journey together.
I thought it would be fun to do some sharing to celebrate 3 whole years of Soul Speak. So here's what I came up with:
I'll start by sharing my first post from 3 years ago.
Then, I'll share some of the things that I've learned along the way.
Next, I'll ask you to share one way being a part of the Soul Speak community has helped you.
And finally, I'll end the post by giving you a soulful gift!

 
So let the sharing begin!

Imagine that you are climbing a very tall mountain. You are struggling to take each step, and all you see is the peak far, far away. You keep going though – one step at a time. And after awhile, it might feel that the peak isn't getting any closer, and you feel so tired and aren't sure if you can take another step. When this happens, look down for a moment. Notice how far away the ground is. Realize just now far you have already gone – how much progress you have made.
So often we focus solely on the goal ahead, which at times can feel overwhelming and so far away. Taking a moment to look back and realize how far you've already gone in your journey immediately puts things in perspective and does wonders for your self esteem.
So the next time you are struggling and running out of steam – take some time to think about or write down just how far you have come since you started on this path. You'll be amazed by how far you have already gone.
I learned that I am a soul having a human experience. When I first began this blog, I was just starting to wake up after having been a skeptic for much of my life. I was barely in touch with my soul – barely even knew that I had a soul. But over the last three years, my heart has opened in such amazing ways – staying in this soulful space has allowed me to receive such powerful wisdom from my soul and also from my spirit guides and angels.
I have learned how powerful sticking with something can be. I have stuck with this blog because it's my heart and because I love it. I have stuck with it because I love the connection and the community that has formed because of it. I have stuck with it because my entire life and business have become what they currently are because of it. I have stuck with it because I have found my soul's purpose: sharing, writing, inspiring, connecting, bonding. All of that. This is truly it for me. And it doesn't mean that I won't keep growing and expanding, but it means that I'm on my path. I'm here, allowing myself to connect with the flow. And that feels pretty amazing.
I have learned to take baby steps and just show up. If I had known that my life would change in such a dramatic way because of this blog, I would have been terrified to start. If I had known that I would be completely different because of it, I absolutely never would have started – fear would've taken over and consumed me. My soul knew that and allowed me to take baby steps – one post at a time. One change at a time. One connection at a time. One aha moment at a time. (Which, by the way, is how my life is still expanding – I have no idea where I'll be three years from now, and that's a-okay with me. I'll just keep showing up, saying yes, and trust that I'll be exactly where I'm supposed to be.)
I learned that I am not alone. I truly thought that I was more powerful alone than with another. Boy, was I wrong! My ego was so afraid of letting others in, but my journey over the last few years has taught me that life flows much more easily when I let go of the reins and let others in. This includes others here on Earth and others beyond the physical realm.
I learned that being vulnerable is the way to go. Oh boy, this has been a tough one for me. I was so afraid to be seen – to be "out there." And so this has been (and continues to be) an evolution for me. I have always been a "both feet in" type of person, and so I knew that if I was going to write this blog, I would have to show up as I truly am – no pretenses, no masks, no "everything is going really amazingly great" if it wasn't, and no, "I'm so happy to have everything all figured out" when I clearly haven't. There have been many posts that I've published where I thought I was going to throw up afterwards. Like Brene Brown says – I was in a serious vulnerability hangover. But I allowed my soul to speak, and I didn't let my fear and ego delete those words. I trusted that someone else needed to hear them. And every single time I did that, at least one person wrote to say how that post was exactly what they needed to hear at that exact moment. This powerful confirmation is truly what's kept me going during times when I wondered if this whole "putting myself out there thing" was worth it. It is. For me. For all of us. Showing up as ourselves and sharing from that honest space is absolutely essential.
I have learned that when I say yes to life, life says yes to me. Before I began to blog, I had gotten into this silly (but still powerful) habit of saying no to my life. If it scared me – even in the slightest bit – or pushed me out of my comfort zone in any little way, I wouldn't do it. And so what ended up happening is my world became smaller and smaller until I felt like I was living in a dark box that was far too small for my body and my soul. This blog has shown me how expansive saying yes is. I have been able to break free of that box and spread my wings. Each time I said yes to an opportunity, I gained confidence that I would be able to say yes to another. And that's exactly what happened. It's been a magical ripple effect that continues to this day.
I have learned that people are good and have such beautiful hearts. I used to be a cynic, especially when it came to people. Like many of us, my heart had been broken and I chose to lump just about the entire human population in with those who had hurt me – assuming that everyone would eventually hurt me, too. Throughout this journey of inviting others into my heart, I have been able to have this belief shattered in such a beautiful way. I have seen firsthand (over and over again) how people are good, kind, loving, and nurturing. I now know this to be true. And I have attracted these people into this community where we've created our own love bubble. It's pretty magical, and I now am able to see the world through such a loving lens. I have so much evidence that this is true. I feel it. I believe it. I know it.
I have learned that there are people out there who are just as sensitive as I am, and this space has allowed us to find each other. I used to feel so separate from others – almost wondering if something was wrong with me. I didn't feel like a part of "them." I have always been highly sensitive, and I have always felt like an outsider to a certain extent. I was great at faking it – pretending to fit in – but inside I felt so alone. This community has helped me see that I am definitely not alone. There are thousands of us here – and millions of us in the world – who are this way: extra sensitive and extra empathetic. We see the world differently – we feel everything so strongly. And we are here together, which makes walking through this life that much easier. I'm so happy to have found my soul tribe.
I have learned that you truly can make a living while following your soul's purpose. This one has been huge for me. It feels so amazingly good to share that I don't have any other source of income – that Soul Speak (and all that has formed from it) has enabled me to create a life where I am in the driver's seat, where I get to live creatively and soulfully each day, and where I get to help others connect with their soul and embrace their lives. All of that is possible because of this blog. Because I'm still here. Because I trust my soul enough to say yes to what it asks me to do. We live in such a miraculous time – where the internet truly makes it possible for us to create the life we want to live and then actually live it. I'm proof of that. I'm such an introvert, and I was never meant to be in the world full-on at a "regular job." I tried that years ago, and it was just too much for my sensitive spirit. I have found a way to share my gifts while still honoring my needs, and I know that it's truly possible for each of us.
I have learned that it's okay to set boundaries. I simply can't do it all. In the beginning I was so happy with saying yes to everything and everyone. Now, I'm learning that saying no to another oftentimes means saying yes to me. And that's becoming essential. Practicing self care is no longer an option for me – it's become part of my daily schedule.
I have learned to trust my soul. Before I began this blog, I never even thought about slowing down and getting in touch with my soul. I wasn't even sure I had a soul, to be honest. Writing Soul Speak over the past three years has helped me see how connected I am with the universe – with this infinite love.
I have learned that love is everything. It is. I know this for sure. At our core we are love. We are expressions of love. We are the embodiment of love. We are meant to share our love and receive love from others. We are love. And knowing that has changed the way I look at everyone and everything. It's softened me. It's helped me. It's opened me.
I have learned that words are powerful. They change lives. My life has been changed by the words here on this blog. I have taken them in and let them soak into my being. And I hope your life has been changed as well. What we focus on expands and becomes our life. And it's my hope that this space has become a positive refuge for you to connect with your soul and embrace your purpose.
I often receive emails from beautiful souls who share what the Soul Speak community has meant to them, and it absolutely lights me up and helps me truly see how powerful words are. How energy and intent are powerful. And how when we show up and see each other – really see each other – magic happens.
I would love for you to share (either in the comments below or by emailing me) what Soul Speak means to you. Has it helped you in some way? Does it add some positivity and grounding into your life? Has it connected you with your own soul? Has it supported you in slowing down and living authentically? However it has helped, I would love to hear your experience!
I'm thinking of putting your sweet words into a special section here on Soul Speak, and so this is a way to be included in that. (Although, please know that I will always ask permission before I share your words here – so no worries about that!)
For now, let's just let the love flow and celebrate Soul Speak's birthday by sharing what this space and this community means to you! 
I created my very first guided meditation to help each of us connect with our soul and honor our inner voice.
To celebrate Soul Speak's 3rd birthday, I'm giving it to you for FREE! 
I hope you enjoy this sacred time tuning in and listening to your beautiful soul's wisdom.
You can click below to download it!
I am just so grateful for each of you! Thank you so much for being a part of this journey with me. When I first started, it was very rare to receiving a comment or have one of my posts shared. And I often wondered if this was worth it. If I should keep going. I'm so glad I did – it's become a safe haven for me and hopefully for you as well. It wouldn't be what it is without such a loving community behind it. So thank you. Thank you. Thank you.
Please help spread the love by sharing this post on Facebook and Twitter!
Hugs,