It's no secret that I'm an animal lover. For almost 40 years, I've always had a furry pet friend in my life. And when I haven't, I've felt like a piece of me was missing.
As a child, I used to dress up my cats (which I'm sure they loved) and push them around in a baby buggy. As a teenager, I would hold my cats and cry into their fur over one heartbreak or another. As a young adult, I received countless hours of joy from my ferrets – laughing at their silly antics. And as an adult, my furry friends have continued to help me get through life's ups and downs. They are so wise and soulful and connected to the universe, and I have learned so much from them.
While I know that I'll continue learning from my furry friends, here's a bit of what they've taught me so far:
Life happens in the present moment.

I've been a worrier for most of my life, and I'm constantly thinking about what's going to happen in the future. Animals, however, generally don't think about the past or the future. They are simply in this exact moment. They don't hang onto hurt and regret, and they don't feel anxious about what's about to happen. Hanging out with them over the years has helped me be better able to embrace the present and really stay in it, which I'm so grateful for.
Having fun is what it's all about.

There is something truly heart-opening when you see animals enjoying themselves (which is often). Watching a dog run at full speed through the yard or a cat jump up to play with a toy or ferrets jump around on the bed and wrestle with each other brings such joy to my heart. I tend to be on the serious side, and seeing this unbridled joy really helps me be able to embrace my own joy and give myself permission to let loose and have fun.
It's okay to trust.

We've all been hurt before, and it's perfectly natural to close our hearts a bit when this happens. I've had many animals in my life who came from homes where they were abused or neglected, and they still had open hearts and the ability to trust. I'm so inspired by this openness, and it's helped me be able to keep my own heart open as well.
Self care is crucial.

I have a tendency to put my own self care at the bottom of my priority list. Being around cats has helped me see that it's okay to practice self care. They tend not to worry about anyone else. If they are hungry and someone else is eating from their bowl, they will chase them away. They don't worry that the other cat's feelings will be hurt or that they won't like them or they will be mad at them. They simply act in a way that takes care of themselves. While I do think there is a happy medium where we can take care of ourselves while not hurting others, just seeing this example has been so enlightening.
Love is everywhere, and it's unconditional.

I have felt such unconditional love from all of the furry friends that I've been blessed to know throughout my life. They never judged me or wanted me to change in any way – they simply loved me for me. And that deep kind of love helped me see that it was possible to find it in my relationships with people, too.
I currently share my life with three wonderful cats: Biddle, Buncom, and Elsie. Biddle and Buncom are six-year-old brothers who were feral and born in the snow. A kind man found them and brought them in, warmed them up, and saved their lives. Biddle is our comic relief – he's always making us laugh. Buncom is part thug/part baby. He definitely keeps us on our toes, and I love him fiercely. We found Elsie four years ago outside our home and are so glad she came into our life. She's such a sweetheart.
Here they are: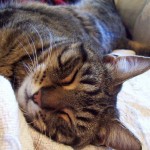 I have had to say goodbye to so many beautiful furry souls throughout my life. And what I know for sure is that love never dies – it just takes a different form. Each animal that I have ever loved holds a piece of my heart. I feel them always, and I know that we will forever be connected. I also know that they are watching over me and are helping to guide me along this Earth journey. And at some point (hopefully many, many years from now), we'll all get to have a big reunion and celebration together.
Our furry friends add so much to our life, and I am so, so grateful that I get to wake up each day to my sweet babies. It's a true blessing.
If you're also an animal lover, I would love to invite you to this free challenge that my friend, Andrea Bryant, has created! It's called the "Pet Love-Fest Challenge: 10 Days of Pet Love, Connection, and Celebration," and it begins on April 8th! I've just joined, and I look forward to being part of it!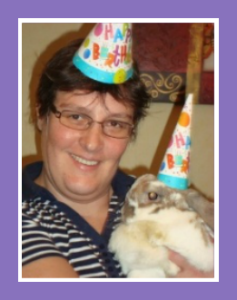 Andrea and I met through Soul Shakers (the online group that I co-facilitate with my husband), and I've gotten to know her really well over the past year.
We immediately bonded on how much we love our animals, and I just love her pure, open heart.
She has the cutest bunnies, Mr. Fergus and Phoebe, and I love how she is living her soul's purpose by helping others connect with animals and through that be able to embrace their lives.
Here's a bit of what's included in this free challenge:
Daily emails with helpful suggestions to connect with your pet
A private Facebook group to connect with other animal lovers
Journaling exercises
A video tutorial especially for pet parents
PDF worksheets
A pet meditation
I love how each day during this challenge has a theme. Here are the details:
Day 1: Gratitude
Day 2: Bonding Fun
Day 3: Meditation Journey
Day 4: How it Began
Day 5: Flying Your Pet-Loving Flag
Day 6: Childhood Memories
Day 7: Celebration Time
Day 8: Love, Love, Love
Day 9: Photo Fun
Day 10: Lessons Learned
Andrea has put so much love and care into creating this challenge, and I hope you'll join in the celebration! I know it will be fun, soulful, and heart expanding for you and also for your furry friends.
I look forward to learning more about your pets (and you!) during this time together.
Hugs,