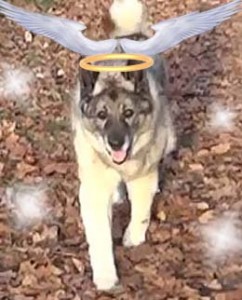 One year ago today, my sweet dog-ter, Xena, passed away. Since then, I've shared about this journey of grief here on Soul Speak. I've shared how my heart completely broke open with this experience and how my life opened wider than ever because of it.
It's been both the hardest and most beautiful year – all wrapped up into one. It's been a year of the lowest lows and also the greatest gifts. I have most likely cried more tears this year than all of my other years combined. But I have also learned more about myself and our universe and why I am here and why we are all here and how we are all connected and how love never dies and how we always can connect – even if we are no longer in our physical bodies. I've learned how to be strong and say no and strip away everything and everyone that wasn't feeding my soul. I've learned how to be still and quiet and patient. I've learned that even when things don't go the way I want them to, I am always loved and supported and cherished by something so much bigger than myself. I finally got – on such a deep level – how we're truly never alone. None of us. Our angels are always with us – loving us and cheering us on.
I have felt Xena each and every day since she left the physical world. I have felt and seen the signs that she continues to send each and every day. When I'm thinking of her and needing her extra, the lights will flicker. When I miss her and want to say hello, the clock will blink. When I want to know she's next to me, I'll feel her near. She's shown me in so many ways that she'll never leave, and I can feel her guiding me toward myself – toward the person that I had gotten away from and am moving back to again. It's been such a beautiful process to have her as my beautiful angel.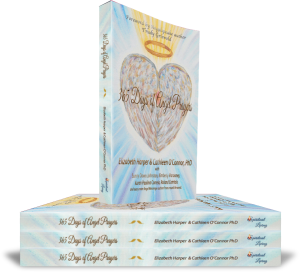 A few months after she passed away, I was invited by my friend, Elizabeth Harper, to be part of a collaborative book called 365 Days of Angel Prayers. It was at a time when I had moved away from my angels. I was disheartened and angry and sad and grief stricken. And I had stopped communication with them completely.
Elizabeth asked me to write a prayer to my angels – a prayer that would be part of this loving book, a prayer that would help others who were feeling disconnected be able to feel the love again as well.
And while I resisted this idea at first – fearing that it would be too hard for my heart, something from deep within let me know that writing this prayer would be very healing and very freeing. I felt that it would help me move through my grief and anger and be able to embrace universal love again.
I sat down to write, and this prayer flowed out almost faster than I could type. And when I went back and reread it, I could feel my heart begin to open immediately. I could feel the love and the connection again. And I have held onto that connection ever since. I know that Xena led Elizabeth to me. And I am so happy to share this prayer with you today.
Leaning into You

Dearest Angels,

Please help me lean into your love, your light,

your strength, your wisdom.

Please help me remember

that I don't have to do this whole life thing on my own,

that I don't have to struggle to the point where I am exhausted

and push to the point where I break.

Please remind me that I can always lean into you,

and we'll walk through each moment together.

Please be the tree that I can lean against,

the ground that I can stand upon,

and the rock that can support me when I need to rest.

Please be the hand that holds my own

and guides me into the light on even the darkest days.

Please help me surrender and be able to trust – really trust –

with every ounce of my being that you are already beside me

lifting me up and surrounding me with your love.

And if my faith ever wavers,

please help me remember that you've never left

and that I can always lean right back into your love.

I'm leaning in, and I can feel you waiting with open arms.

Thank you for that.
I know that it's not a coincidence that this book launches today – on the year anniversary of Xena's death. There truly are no coincidences, and I can't wait to receive my own copy and to be able to have access to all of these loving and powerful prayers at once.
We're always, always, always surrounded by so many angels – here in the physical world and beyond. I know without a doubt that they are here to support us and love us and help guide us towards love and light – always. I find it so comforting that my sweet girl is among the stars and has become such a beautiful guiding light for me. I'm so grateful that my heart is open, and I am once again able to feel her never-ending love. What a beautiful, beautiful gift – a gift that we all have access to when we open our hearts.
I'll love you forever, sweet Xena Ballerina Pie Head. Thank you for continuing to bless me with your angelic love.
Hugs,