I absolutely love the Soulful Shout Out series here on Soul Speak! I get to highlight and introduce you to beautiful people and their wonderful offerings!
I love connecting people and sharing products that I love, and so I'm just thrilled to be able to do that each week with you here.
If you would like your product/website/service promoted here, please click here to read the details and then email me to apply. (I take what I share very seriously and will only share products and services that I am in alignment with.) The spaces are going quickly because the introductory prices are going way up on the 31st, so please keep that in mind when you're signing up!
***We're scheduling into April. Please be sure to reserve your space before Jan. 31st while the prices are still low! (You can pay for your space now and use it any time in the future!)***
A huge thank you to everyone who has already done so. You're all absolutely wonderful, and I am so grateful for each of you.
And now, let's get to this week's beautiful soul and her inspiring offerings!
This week, I am excited to feature my good friend, Linda Joy!
If you're just meeting Linda for the first time, I have a feeling you're going to love her as much as I do. She's authentic, inspiring, and has a beautiful soul.
Linda is the publisher behind the beautiful Aspire Magazine and also several bestselling books. While she has many special gifts, one is that she brings together heart-centered businesswomen to share and collaborate in authentic ways.
Linda and I met virtually several years ago and immediately became good friends. We've partnered in business ventures and also shared so much personally. She's given me such good advice throughout the years, and I value our friendship.
A few months ago, Linda shared that she was putting together a special giveaway for heart-centered women business owners. I immediately jumped at the chance to be a part of it, and now I'm so happy that it's here and I get to invite each of you to be a part of it, too!
It's called the Inspired Living Giveaway: Resources for Mastering the Art of Living, and it will take place between March 18th-20th.
It's a list-building event where you'll have the opportunity to share your free gift with approximately 500,000 women around the world!
How Does It Work?
Linda is asking heart-centered female visionary business owners, coaches, and authors in the personal and spiritual development, success and mindset, natural living, health and wellness, and conscious business genres to join her.
It's a huge win for everyone! Those who participate in the giveaway will receive wonderful, valuable gifts. And those who offer their free opt-in gift will grow their list.
Why It Matters
One thing that I've learned over the past few years is how powerful and essential networking and collaborating are. Absolutely essential.
For so many years, I tried to do everything on my own. I stubbornly thought I could do it all by myself. And I struggled in huge ways because of this mindset. Once I opened up and let others in, everything shifted for me. Giveaways such as this help us expand our reach and share our message with more people.
Because truly that's what this is all about. We are here because we have a powerful message to share, and it would be such a shame if we didn't put ourselves out there to share it.
Linda is so authentic in her mission to create a space for all of us to meet and share and grow together.
I believe so much in what she's doing that I became a Sacred Partner!
I would love for you to join us in spreading the word and reaching more people with your message, too! There are both paid and free options!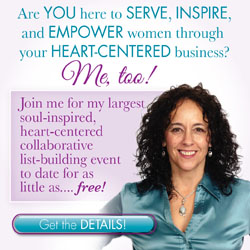 Linda and I would love for you to join us for this special giveaway! 
There are three placement options to meet you where you are in your business, including a limited number of free placements.
Doors to this opportunity are closing soon in order for Linda and her team to get ready for the epic March 18th launch.
Here's what Linda says about it:
When you step out as a woman who embraces the feminine principle of collaboration you'll be seen as a woman who embraces the principles of the new feminine business paradigm – a woman others want to play, create and collaborate with. As my private clients have discovered, you'll watch the doors open to joint venture invitations, speaking opportunities and so much more. 

Imagine being a part of THE list-building event of the year for heart-centered, visionary female business owners, authors and coaches!  Highlight your brand.  Partner with your peers.  Get highly-targeted exposure in front of hundreds of thousands of women. 

You started your business and created your products to transform lives, am I right? Well, the truth is that you can't do that if those you are meant to serve can't find you. I am inviting you step out of the shadows, and join me and my visionary friends for this heart-centered collaborative project.

The Inspired Living Giveaway: Resources for Mastering the Art of Living collaborative list-building project was created to  bring YOU highly-targeted EXPOSURE in front of women interested in products and services that empower, inspire and support them to master the art of living personally and professionally.

I can't wait for you to join us!
Please spread the love and share this post on Facebook and Twitter!
Big hug,

P.S. – The giveaway itself will launch on March 18th, and everyone will be able to download all of the free gifts starting then! The more of us who join in now with our free gifts will make the giveaway extra special for all of us! 🙂