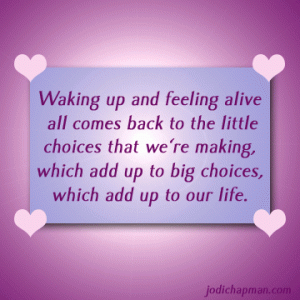 I love this time of year. We all get a fresh start – a clean slate. We get to reflect and evaluate our life – keep what's working and change what isn't.
I have spent some time doing exactly this over the past week. I've been looking at how my life is going and thinking of any tweaks that I would like to make. It's exciting to know that we truly have the power to re-create our lives – one choice at a time.
It's crazy to think that just two years ago, Soul Speak didn't even exist! If someone had told me then that I would create a space where thousands of amazing people would gather to support each other on the journey back to their soul, I would have thought they had the wrong person. If they had told me that I would create a life-changing ecourse that helped people plug back into life, I would have been really surprised. If they had said that I would be connecting with some of the most loving, amazing people on the planet, I wouldn't have known how that could happen.
But now I know how it happened. One choice at a time.
I still get chills when I think of how quickly lives can change and completely turn around – once we consciously set ourselves in motion. Just two years ago, I was hiding from the world. I was living in fear and didn't want to be seen or heard or noticed in any way. My scared ego was running the show. Thankfully, my soul reached in and overpowered the fear long enough for me to hear that voice within. And thankfully, I was strong enough and tired enough of the way I was living to actually listen to that voice.
The voice said that I had so much more to give to the world, and that I wasn't living up to my truest most loving potential by hiding from my gifts.
The voice said that I wouldn't have to make huge leaps and change overnight in order to start shining my light. I could make one empowered choice at a time – just one. I could consciously change into the person that I had always been.
So that's exactly what I did. Baby steps.
And what I found is that the universe supported me in huge ways. With each little step forward that we take, the universe opens many doors for us. Each time we say yes to life, life shows up in more ways for us than we ever could have imagined. 
I know that this is true. My life is evidence of it.
So if you're also looking at your life and reflecting and evaluating, remember that you have the power to create whatever life you want. Remember that you don't have to do it overnight. Remember that just one choice will turn into another choice, which eventually will add up to all of the choices that make up your life. 
What choices would you like to make to create your ideal life?
What tweaks are you willing to make?
What changes would you like to make? 
Remember that change doesn't have to be overwhelming and life doesn't have to be a struggle. Little choices today add up to big changes tomorrow. How cool is that?
I have complete faith that each of us has the ability to step into a life that we feel happy of and proud of and empowered by. I know it.
Big hug,

P.S. – Just over a week until the next Coming Back to Life Ecourse starts! I would love for you to join us! It's a wonderful way to start the new year – giving yourself the gift of plugging back into life again!
If you're thinking of being a part of it, please do so! This is the last chance for awhile where it will be hosted in real time with live chats and an interactive Facebook group. It's a wonderful way to have an entire community supporting you along your journey! Plus, we can work one-on-one together, too!
Click here to watch my welcome video and read all about what you'll receive on this beautiful journey back to your soul!