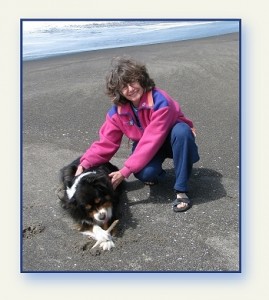 I'm excited to introduce you to a friend of mine, Connie Bowen! She has written a wonderful children's book filled with whimsical illustrations and positive affirmations! It's called, I Create My World – The Power of Thought to Shape Our Lives: A Book of Affirmations.
I grew up with affirmations, and so I know firsthand how powerful they are in creating healthy self esteem and believing that dreams do come true!
I'm happy to share our interview with you!  Connie is generously giving away her ebook to 2 lucky winners, too! Please keep reading to learn how to enter.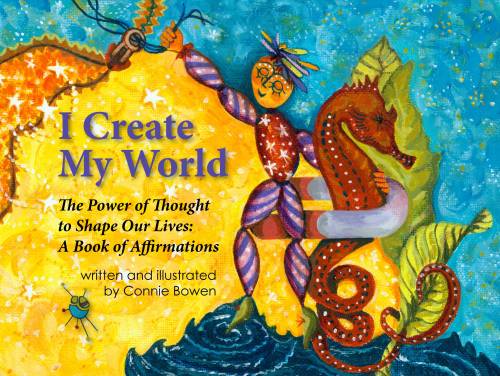 Could you share a bit about how your book came about?
I painted the collection of whimsical paintings that comprise I Create My World, each with their own characters and interesting story, for a child to interpret using their unlimited imagination. I enjoyed making them, and it was fun and challenging thinking up new and interesting images.
After I had collected quite a few, I put them safely under my desk and moved on to other creative pursuits.
Fast forward a few years later when I was working with affirmations from Sanaya Roman's books and also theories of the law of attraction as taught by Abraham-Hicks.
One day, on my early morning walk, I had been repeating affirmations while concentrating on picturing the life I wanted to create. Soon after, I was enjoying the warm water of my morning shower when into my mind popped the words "The paintings under your desk go with those affirmations." I had not been thinking about those paintings and they would still be under my desk to this day except for those words.
I Create My World is the final result of pairing those paintings with affirmations that encapsulate what I've learned in my spiritual studies.

I am someone who received affirmative messages very early on as a child, and I know this helped my self confidence greatly. What has your experience been with introducing positive affirmations to children? Why is it so important?    
I believe that even very young children need to hear positive messages and affirmations to lead a fulfilling life. I remember one time I was explaining to my husband about what a difficult time I was having at work. My son, Matt, was very young at the time, but I heard him say, "You're sounding awfully negative, Mom." So he had definitely picked up the "positive thinking" habit and when confronted with negativity, he was sensitive enough to know that the situation could be improved by changing the energy around it.
It's so important to validate a child's self-worth and self esteem by pointing out to them their strengths and encouraging them to try their best at anything they want to accomplish.
How do you use affirmations in your own life?
I love the way affirmations can instantly refocus a person's thinking into a positive direction. I have recently become more and more aware of my feelings and how they're guiding me to change my thinking. If I feel negative emotions such as anger, guilt, fear or remorse, I simply change my thinking to a more positive tone, release those feelings, and the effect is almost instant in a better-feeling result.
An example of this is when I was contacted by a teacher via e-mail who wanted to let me know how much she enjoyed using my first book, I Believe In Me, in her classroom. I thanked her and then went on to joyously tell her about my new book. I didn't hear back for a few days. My thoughts immediately went to a negative scenario such as "I shouldn't have gone on and on about my new book. I've overwhelmed her with my e-mail. Now she won't want to have anything more to do with me."
Of course, these thoughts brought on negative feelings. I caught myself in the act of creating something I did not want to experience in my life. I immediately changed my thoughts to "It's wonderful how enthusiastic I am about my new book. I appreciate hearing from this woman. I know she appreciates hearing from me. I love my new book and enjoy sharing it with anyone who is interested to know about it." I felt instantly better. My feelings let me know I was now attracting exactly the outcome I desired.
She did indeed contact me again, explaining that she'd been at a teacher's conference for a couple of days. She loved hearing about my new book and wanted to know more.
I do believe in my heart of hearts that affirmative thinking creates a joyous life experience.
Which affirmation is your favorite from this book? How has it helped you?
I have a lot of favorites, but "All is well," the last affirmation in the book, is one of my favorites. I am continually reminded by my higher guidance to take a deep breath and repeat "All is well" when I'm feeling totally shaken by outside circumstances. It is like a reboot to my system. The deep breath and affirmation act as a cleansing agent to set the stage for a new jumping off point to begin again.
What would you like someone to take away after reading your beautiful, inspiring book?
I would like anyone to take away the concept that we do shape our life experience by our thoughts and words. We are energy and vibration at our core. That is who we really are: spiritual beings having a human experience. At a very deep level, we are either allowing our higher good to flow to us, or we are resisting it. We know whether we are allowing or resisting by our feelings. Our feelings tell us moment to moment if what we are desiring can flow to us.
I intended my book to be full of creative imagination and inspiration. Life is a learning experience, and what better way to remember how powerful we are than with lively affirmations and colorful, whimsical illustrations that bring a sense of serenity and joy.
I Create My World gives parents the tools to make a positive shift in a child's life. Sharing my book can raise a child's spiritual awareness enabling them to make choices based on their own inner strength.

What does your soul want you to know?
That we are all deeply loved and cherished beyond measure and held in Divine arms at all times.
Is there anything else you would like to share?
One of the affirmations in my book is "I follow the light of my inner joy," and moving toward joy is moving toward an ever greater expression of life itself.

Connie is graciously giving away 2 copies of her ebook, I Create My World – The Power of Thought to Shape Our Lives: A Book of Affirmations! 
Entering is super easy!
Follow I Create My World and Soul Speak on Facebook.
Leave a comment below sharing one way you're going to get creative in 2013!  (If you're reading this via email or a reader, please click here to be taken to the post.)
Two lucky winners will be chosen randomly on 1/4 at 11:59 pm pst.
Good luck!
Please help spread the love by sharing this on Facebook and Twitter!

P.S. – Just a few days left to take $30 off the next Coming Back to Life Ecourse! Class begins on 1/21, and the coupon expires on 12/31!
If you're ready to make 2013 the year you embrace your life and begin living fully, I would love for you to join us! It's truly a life-changing course! Click here to learn all about it and sign up! (Use coupon code: wakeup to receive the discount.)