***This giveaway is now closed. Thank you to everyone who entered, and congrats to the winners!***
I'm excited to introduce you to Taslim Jaffer – a friend of mine who is on a mission to help you tap into your creativity and embrace a passionate life!
Taslim and I have gotten to know each other over the last few months, and she shines so brightly and sweetly. She is a writer, a creator, a speaker, an inspirer, a wife, a mom – an all around beautiful soul!
Taslim just released two wonderful products: Tuesday Tasks – 52 Activities Designed for an Entire Year of Creativity and Make-A-Wave cards!
They are both absolutely perfect to begin the new year with! Tuesday Tasks will help you unlock your creativity (we all have it inside of us!) and let it flow. Each week, Taslim guides you through a fun task to help you tap into your creative side again! The Make-A-Wave cards each contain an inspirational quote on one side and a message to share the card on the other. They are great to keep for yourself or pay it forward and give them away. (Taslim talks more about some great ideas for these cards below.)
I asked her about her about her new goodies, her own creativity, tapping into her soul, and much more! Be sure to read her interview below and then keep scrolling to find out how you can win her book and her cards! Plus, she has a special offer that you don't want to miss! So let's get started! 🙂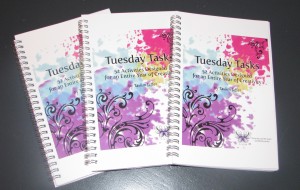 How did Tuesday Tasks come about? 
In July 2011, I started my blog, Let ME Out!! Releasing Your Creative Self, knowing I wanted to help others remember their passions and incorporate fun into their lives.  I decided to run a weekly series in which I encouraged readers to try different tasks: some geared toward spiritual awakening, some focusing on letting go of perfection and having fun while others supported issues like time management and childcare.  Simultaneously, I planted the seed with the Universe that I would like to create a workbook that would open up people's creative channels and give them permission to be who they truly are.  Eventually, these two ideas married each other and by May 2012 I created Tuesday Tasks: 52 Activities Designed for an Entire Year of Creativity.  Some of the tasks from my blog series are included; however, many of them are exclusive to the book.  Initially it was an e-book only but I wanted to offer readers a space where they could record their responses – writing is such a revealing exercise!  Now they are available in a portable, print edition!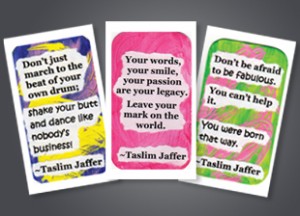 What inspired you to create the Make-a-Wave cards? Can you share some of the ways we can use them?
Ah, the Make-A-Wave cards…I call them the little cards with BIG dreams!  As part of my own creative release, I decided to play with things that are fun for me and see what would happen.  You see, part of the reason I started blogging about creativity was because I knew it would guide me toward my own!  And it did!  I got messy with paints and mod podge, and added quotes which have always been something that bring me joy.
And then…most exciting for me, I embraced my love for humanity by turning them into inspirational, pay-it-forward cards.  Hence, the wave.  It starts with one person and travels around the world!
The idea is that you hold on to the card for as long as you want – keeping it somewhere you can see for a boost of inspiration throughout your day.  Then you pass the card on, either to someone you know OR you leave it somewhere for a stranger to find!  Maybe on a restaurant table?  In a gym locker?  In the pages of a library book?  Or you could even hand it to someone directly – perhaps the bus driver or bank teller.  Whoever is meant to find or receive the quote, will.  And then by following the instructions on the back of the card, they will pass it on as well.
So far, people have told me they have sent the card to different parts of Canada, the U.S., Europe and Mexico.  It's thrilling that each card has the potential to affect countless people the globe over!
Your blog centers around creativity. What does creativity mean to you?
Creativity is the ability to say, "Hmmmm…what if I tried this?" or "What if I did it this way?" and come up with a unique and useful product.  That "product" could be an idea or something concrete.  It could be a painting, sculpture, drawing, or literary piece, but it doesn't necessarily have to be fine art.  I think there is a misconception out there – that creativity is about being able to paint like Picasso.
Not true.  If you can come up with a way to raise funds for an orphanage in Guatemala, that falls in the same category as any masterpiece.
Why do you think it's important to allow creativity to flow through us?
Think of creativity as an endless, limitless potential to better your life and the lives around you.  By opening up your creative channels, by accessing this limitless pool, you have the ability to increase the joy in your life.  You have the power to make a global impact as well.  Think about everything in your world that exists because someone thought outside the box and created something: the painting on your wall that just lights up your room.  The anti-bullying campaign in your child's school that made even one child feel more safe.  The card that makes someone smile and feel well again.  The computer on which you are reading this article.
The world stands to gain a lot from your creativity!
How do you show up creatively and soulfully for yourself each day?
I have become conscious of only doing work that is my passion and that feeds my soul.  Recently, I made that huge, scary, heart-stopping leap into my dream career and haven't looked back!  Every day, I do the things that make my soul buzzzzzzz with happiness: I write, I fundraise, and I promote ideas and products that contribute to the greater good.  That has been my biggest gift to myself – and it's a gift that keeps on giving, to me and those around me.
I start my day with hope and prayers for continued health and happiness, and I end my day with gratitude.
What are some tips you can offer to someone who is feeling blocked creatively to help them get it flowing again? 
Because creativity is energy, unblocking it can happen on several levels.  Sometimes when our physical environment is cramped, it hinders the flow of energy, including creativity.  I recommend de-cluttering on a regular basis by donating unnecessary items to charity.  Not only are you opening up your physical space to perhaps make room for a "thinking" space or something else of value, you are also opening up your heart which thrives on you doing good deeds like giving.
You can also de-clutter your schedule.  We are always so busy!!  It's our greatest complaint and perhaps the vice with the tightest grip.  Look at the things you are saying 'yes' to and ask yourself if it is necessary to invest your time in all of them.  Are you always agreeing to social activities that really don't feed your soul?  Do you attend events to please others?  Even if you enjoy having a bustling social calendar, I encourage you to take some time out and spend an evening without plans.  Some of the greatest ideas have come to people who are just sitting!  It's a lot easier to hear Inspiration when you're in a quiet environment. Take time to tune in to your Self.  It's a good idea to start with 10 minutes a day of silence (I prefer in the dark) and just breathe.
Those tips are just scratching the surface – time and space are just two of our blocks.  There's also our perfectionism, our fears, our doubts…and I have tackled many different scenarios in the Tuesday Tasks book.  I really am very excited to provide an entire year's worth of exploratory activities!
How will tapping into our creativity connect us to our soul?
For me, creativity and spirituality are synonymous.  That great Creative Source is also that Universal Source which provides for us and guides us; it's from where we have come and to where we will return.  In essence, it is that piece of us that we call our Soul, our Spirit, our Self.
When we tap into one, we tap into the other.  When we express our creativity, we express our Soul.  Be it a novel, a sculpture, a poem, an idea for an irrigation system in a developing country – it's the way our Soul has its say.
The more time you invest in accessing your creativity, the closer you journey to your Soul, to that which you are.
What does your soul want you to know?
My Soul wants me to know that it is OK to be authentic.  More than OK.  It wants me to know that when I live in fear of judgement or abandonment, I am depriving the world of the unique expression of my ideas or products that could bring a smile to someone's face.
Would you like to share anything else?
I would like to reiterate that we are all creativity, at our core that is simply what we are. If you are feeling like you are blocked, that is all that it is.  A block.  And blocks can be removed just as they can be put up.  Releasing your creativity, allowing that flow of energy will bring so much joy to you that will spill over into every other part of your life – your relationships, your career, your health, your perception of the world and how you feel about your place in it.
Leave your mark on the world with your passion, your smile, your words.  They are your legacy!

Taslim is graciously giving away one copy of her book, Tuesday Tasks: 52 Activities Designed for an Entire Year of Creativity and one set of Make-A-Wave cards! 
Entering is super easy!
Follow Let ME Out!! and Soul Speak on Facebook.
Leave a comment below sharing one way you're going to get creative in 2013!  (If you're reading this via email or a reader, please click here to be taken to the post.)
Two lucky winners will be chosen randomly on 12/20.
Good luck!
For every Tuesday Tasks book that you buy, Taslim will include 3 Make-A-Wave cards for FREE! How cool is that? 🙂
(Offer expires on 12/31.)
Please help spread the world about this wonderful giveaway by sharing this post on Facebook and Twitter!