This giveaway is now closed.
Thank you so much to everyone who participated, and congrats to the winners!
Today's post is all about anxiety. There is even a contest! (Keep reading to learn all about it.)
So what exactly is anxiety anyway, and how do you know if you suffer from it? As someone who has felt anxious since I can remember, I would say that it's a nervous feeling that stays with you – a fluttering in your chest that feels tight and tense. And I would also say that if you aren't sure what I'm talking about, most likely you aren't suffering from it.
I'm definitely not a licensed professional, but based on my own personal experience with anxiety I would say that it's caused from spending too much time in the past and future and not enough time in the present. And it comes from the need to want to change your past and control your future. But you know that this is impossible to do, which is where the anxiety comes in. This may not be the textbook definition of it, but it's what I've found to be true in my own life.
Growing up, I was always nervous. Except I didn't tell anyone because I didn't want to call attention to myself. In school, I tried to stay five steps ahead of the teacher – reading ahead  so that I could prepare just in case she called on me, rehearsing my answers just in case I needed to speak, looking like I was engrossed in my book so that I wouldn't be noticed, dreading any class where I would have to go in front of the classroom… you get the point. Shy – yes. Introverted – yes. Sensitive – yes. Anxious – yes. (On the inside.) On the outside, I appeared to be outgoing and extroverted – I guess it just seemed easier this way.
This continued for many years – feeling anxious and hiding it – until finally I couldn't bottle it up anymore. I was too tired of pretending. And so I completely isolated myself for many years. In college, I sat in the back and rarely spoke to anyone. I avoided taking any class where I would need to give a speech. I took as many independent study/correspondence courses as my university would allow. But I was still anxious.
And then I learned about the mind/body connection. I learned about breathing. And relaxing. And guided meditation. And yoga. And being aware of my thoughts. And facing my fears head on. And realizing that the physical symptoms that came up (fast heart, sweating, feeling faint, dry mouth) weren't going to hurt me – they were manifestations from my mind. They were coming from my ego who was trying to keep me safe. But it wasn't real. I didn't have a tiger chasing me, and so there truly wasn't a need to feel panic or anxiety (most of the time).
And while I still struggle with getting stuck in my mind (it seems to be my default setting), I now have tools and awareness that can bring me back into my heart and body. I honestly wouldn't completely give up my anxiety – it is a part of me. But I am thankful that I am able to manage it so that it doesn't have control over me.
Two friends of mine, Shann Vander Leek and Ananga Sivyer, created an entire website that's dedicated to helping with anxiety. It's called Anxiety Slayer. It's a wonderful space with lots of helpful products and resources. If you are looking for ways to go from anxious to calm, definitely check it out.
To celebrate the release of their second album, Emotional Peace at the itunes music store and amazon.com, Shann and Ananga decided to have a contest!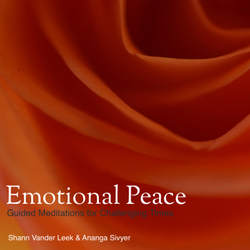 Before I tell you about the contest, I just have to gush about this album first. This album contains over two hours of guided meditations and relaxing music. It's so calming and immediately takes me out of my mind when I listen to it. In fact, I just listened to the Solace track because I've been very low on energy, and I did feel a calming pick-me-up after listening to it. If you're someone who tends to feel easily anxious and overwhelmed (like me), then I definitely recommend this album (and all of their other products, too)!
This contest is fun, super easy to enter, and the prizes are amazing! 
Three people will be chosen randomly to win 1 of 3 prizes (listed below). And the more you participate, the more chances you have to win!
The Prizes:
The Quick Anxiety Stopper – a simple anxiety relief tool you can use anywhere, anytime to quickly regain a sense of calm and control.
The Anxiety Rescue Kit - The Anxiety Rescue Kit contains a workbook to help you find your feet and guided relaxation exercises to help you find relief from mental overload and anxiety – especially if you feel you are experiencing a relapse or setback.
Relaxed and Resourceful – The first in a new series of self hypnosis relaxation downloads, Relaxed & Resourceful is designed to take you away from stress and anxiety and help you enter a deeply relaxed and positive state.
How to Enter:
Leave a review for Emotional Peace on iTunes or Amazon (1 entry)
Like Anxiety Slayer and Soul Speak on Facebook (1 entry)
Follow Anxiety Slayer and Soul Speak on Twitter (1 entry)
Tweet about the Giveaway (1 entry per day)
Share this link on Facebook (1 entry per day)
Leave a comment below telling us what you've done (if you are already a fan on Facebook/Twitter/Podcast subscriber those all count!) Everything you do gives you an extra entry! Do it all to increase your chance of winning!
This contest will end on 8/26 at 11:59 pm pst.
Good luck!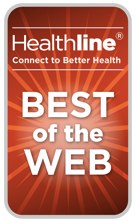 Congratulations to Anxiety Slayer for being named one of the 10 Best Anxiety Blogs of 2012!
I'm so happy for  both of you!


P.S. – Have you signed up for the Coming Back to Life Ecourse yet? I would love for you to be a part of it! It starts on 10/1, but you'll save $20 by registering before 9/1 + you'll receive over $150 in bonus gifts!

P.P.S. – In the interest of full disclosure, I am an affiliate for the Anxiety Slayer offerings, which means that if you buy any of their products I will receive a percentage of the sale (thanks!). However, even if they didn't have an affiliate program, I would still wholeheartedly support them!