This giveaway is now closed. Thank you so much to everyone who entered, and congrats to the winners: Cassandra and Paige! 🙂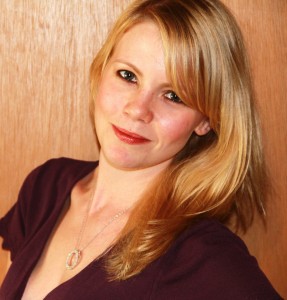 I'm so excited to introduce you to an authentic spirit, a super talented writer, and a wise soul: Lori Deschene!
Many of you know her already – she has graced us with her beautiful words and wonderful blog, Tiny Buddha, for several years. What began on Twitter in 2008 has grown into one of the most popular personal growth blogs in the world. I absolutely love the positive, comforting space she's created – it's a great refuge to go to when life feels a bit overwhelming.
Lori recently launched her Tiny Wisdom Ebook Series, which consists of 5 books that are filled with nuggets of love, hope, and definitely tons of wisdom. Lori's unique ability to connect us with her experiences and make us feel like they are our own is beautiful and refreshing. Her conscious contemplation is honest and heartfelt. She pulls the truth out of everyday moments and shines the light on the sometimes elusive present moment.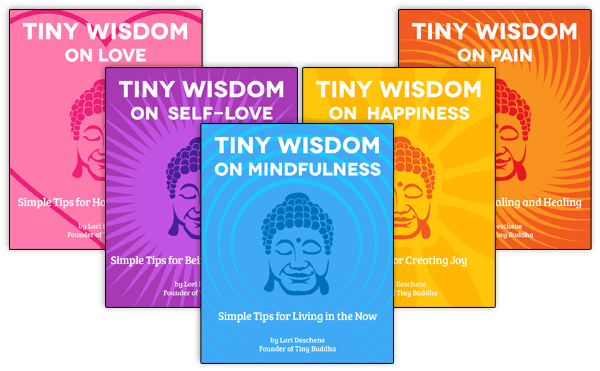 These sweet books are perfect for reading one post each morning and carrying its wisdom with you throughout the day. Or – if you're like me and can't put them down – they are also great to read straight through! These ebooks will help you awaken to the magic of each moment and also to the magic that always resides within you.
And Lori is giving 2 complete sets away to 2 lucky winners!
Be sure to read my soulful interview with her, and the keep scrolling down to enter this giveaway!

While I was reading through each Tiny Wisdom ebook, I found myself nodding and feeling like I was right there with you in each story that you shared and each lesson that came from it. We share so much in common, which I'm sure you hear a lot from your readers. We are all more alike than we realize, and you have created such a beautiful community where we can feel supported and a part of something amazing.
You write about how you were much more closed off to trusting others when you first started tinybuddha. How has the community helped you open up and allow yourself to let others in, trust, and love more openly?
First of all, thank you for the kind words regarding the site! I love that there's such an open-hearted community of people there, and that I get to be part of that. The most helpful part of running the site, for me, has been connecting with other people who've dealt with (and currently deal with) the same challenges.
When I read a story from someone who's felt the same things I have, suddenly I see myself in them and vice versa, and realize there's no reason to be afraid of them. We're all in the same boat, doing the best we can.
That's what's most helpful to me, when it comes to letting people in: recognizing we're not all that different, and that releasing that separate, isolated feeling is worth the discomfort of being vulnerable.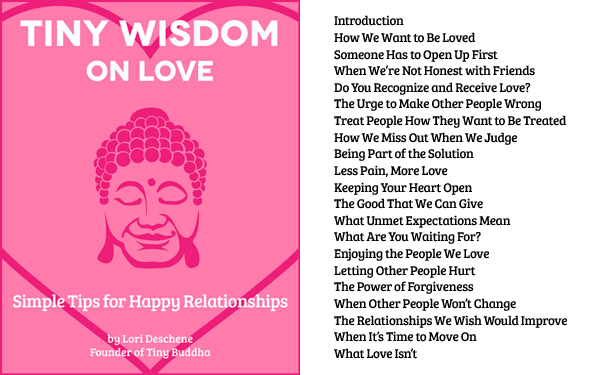 I love your honesty about not having it all figured out – yet you keep coming back to the present moment where all of the magic lives. And you keep coming back to living fully. I know that my days are a mix of feeling awake and fully present to drifting off and having hours go by where I realize I wasn't living consciously at all. I'm sure we all go back and forth constantly. How does this balance work for you? Do you have any triggers that help you come back to the present moment? 
I go back and forth constantly as well! I practice yoga regularly, and that helps me maintain a greater ratio of present-to-not-present moments.
As for daily practices, I rely heavily on deep breathing and grounding exercises, like walking through my back yard barefoot. Just rooting myself in my body helps a great deal—especially since I have a tendency to get caught up in my head.
I also practice tree pose almost every day. It's a one-legged balancing pose that really helps create a sense of inner calm and focus. For readers who've never done it, you lift one leg and rest the sole of your foot on the inside of the other one, whether it's at your shin or higher up your thigh. It's simple but powerful!
You write about your journey (like mine and so many of ours) being about learning how to love yourself completely and unconditionally. I love how you write that self love is a constant choice we can make. For instance, there are days that go by where I don't take any time to rest from the moment I wake up until I crash onto my bed at night. Was someone forcing me to push this hard? Of course not.
Self love is that part of our soul that reminds us that we deserve to be treated in the wonderful way that we treat everyone else. Can you share a few ways that you have chosen to take care of yourself?
Sure! One thing I try to do regularly is ask myself, "What do I really need?" The answer to that differs from day to day and moment to moment. One day I might need to get out and be social; another day I might need to retreat and reflect. Some days I might need to get some physical exercise; another day I may need to take it easy.
I find just asking this question helps me a great deal, because I'm reinforcing to myself that my needs are important, even if someone else wants me to do something else.
Another thing that helps me is "resetting." I can sometimes be hard on myself, and then if I'm not mindful, I can be hard on myself for being hard on myself. It can be a vicious cycle that's difficult to stop.
When I notice myself doing this, I take a deep breath and tell myself, "reset"—as in let it all go and start fresh from where I stand. This one's powerful for me, because it brings me in the moment and helps me clear mental clutter.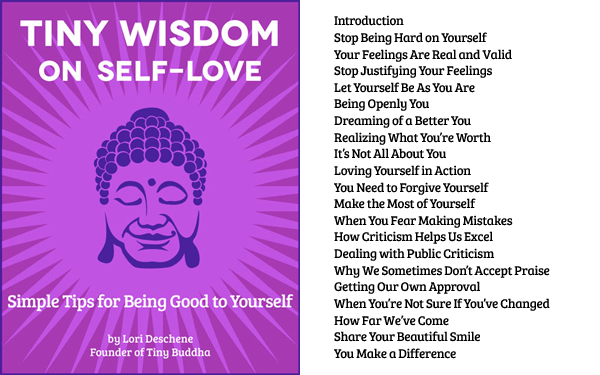 You are a brilliant writer whose wisdom shows through in every word. How do you tap into your inner wisdom? I truly believe that this inner knowing resides within each of us, but it's often covered up with pain, self doubt, and anger. How are you able to bypass those things and tap into your soul's wisdom?
Thank you so much! I agree with your assessment, about the wisdom we all possess. I do a lot of writing while listening to music that moves me. I find this helpful because it takes me out of that intellectual, logical place in my head, and moves me to a place where the words come from my heart.
I think getting out of our heads is crucial for forming insights and epiphanies. So many times we know what's right, but ironically, we can't access it because we're thinking too much to feel it. That's where it comes from—it's not about mentally willing ourselves to find an answer, but rather giving ourselves space to feel it with every ounce of our being.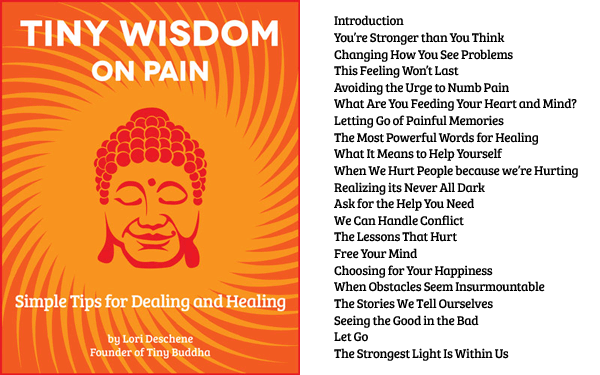 What wisdom do you hope someone will gain in their own life after reading the Tiny Wisdom Ebook Series?
I hope the ebooks will help people make tiny shifts in thinking, being, and feeling in a way that will make a big difference in their experience of the world. That's usually what I write about: the little observations and insights that can change everything, without actually having to change everything.

Lori is graciously giving away 2 copies of the Tiny Wisdom Ebook Series!

Entering is super easy!
Follow Tiny Buddha and Soul Speak on Facebook.
Leave a comment below sharing which book you are most looking forward to reading: Happiness, Mindfulness, Love, Self Love, or Pain.  (If you're reading via a reader or email, please click here to be taken to the post.)
One lucky winner will be chosen randomly on 8/9 at 11:59 pm pst.
Good luck!
If you would like to order the books right away, please click here!