***Thank you SO much for commenting, everyone! I hope the guidance that you received was helpful! The time is up for this round, but I will definitely do this again – it was so much fun. Many blessings to each of you!***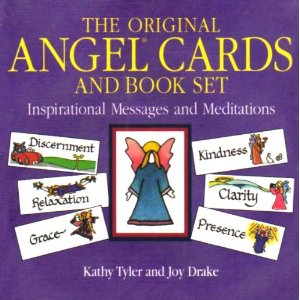 Something magical happened yesterday.
I woke up super early with a horrible toothache, and it was bad enough that I couldn't go back to sleep.
Each morning, I pull an Angel Card for myself. I am constantly amazed by how the perfect card always shows up just when I need it. (These are sweet cards that offer one-word messages of clarity and love.)
I pulled two at the same time yesterday morning: Forgiveness and Freedom. I'm in the process of letting go of some painful past events, and these were exactly what I needed. I then received a beautiful email from a dear friend. She offered guidance to help me release this pain and be able to forgive and let it go once and for all.
I breathed these words into my body. I really took them in and imagined what it would be like to release this hurt once and for all. What would it be like to be free of it? What would it be like to offer complete forgiveness?
And, in that moment, I felt completely at peace.
And then I realized something: my tooth no longer hurt. I went from excruciating pain to no pain in a matter of minutes.
Wow.
The left side of my brain wants to examine this and "figure it out." How could this have happened?
But my soul is overriding my brain on this one. My soul knows that I received the most beautiful blessing exactly when I needed it. My soul knows that the messages were offered with such love and healing energy that they went straight into my body and released the emotional and physical pain that was no longer serving me.
This was such a wonderful gift to receive. And I want to pay it forward and give it to you now.
I will pull 1 Angel Card for each person who leaves a comment. All you have to write is "Yes, please!" or something similar. Please don't feel that you need to share what you want to heal from or what you would like guidance for. You are more than welcome to, but it's not necessary. I know that this can be very personal, and the angels already know what you need.

(If you are reading this via a reader or email, please click here to be taken to the post.)
Keep in mind that the card that is pulled for you may not have immediate meaning, but it is always exactly what you need to hear. If it's not immediately apparent, take some time to drop into your soul. That is where you can connect to the true gift that has been offered and be able to fully receive it.
I will leave the comments open until 8/1 at 11:59 pm pst. If your comment is here before then, I promise I will pull a card for you.
Sending love to each of you.
Please spread the love by sharing this on Facebook and Twitter!


P.S. – Special Announcement!
I'm so excited to introduce the Coming Back to Life Ecourse next week!
Here's a quick preview:
We've all felt numb and disconnected at some point in our lives. And maybe you're feeling that way right now. My hope is that this course will be a helping hand that can offer a glimmer of hope for you. My hope is that the tools and inspiration offered in this course will help you begin to awaken and begin to live fully.
This course is filled with love, a 150+ page workbook, videos, audios, artwork, and tons of fun surprises! Many of my amazing friends contributed their hearts with the hope that they will touch yours.
We will spend six weeks together journeying back to our soul:
♥ Week 1: Starting Where You Are
In Week 1, we spend some time documenting where we are starting from. We pat ourselves on the back for being brave enough to begin such a powerful, life-changing journey. And we clear the way for lasting transformation to take place.
♥ Week 2: Getting Real
In Week 2, we recognize the importance of pure authenticity when excavating our soul. We stand strong in who we have become, and we honor our past – while at the same time, we recognize that our present moment can be anything we want it to be. We can be anyone we want to be. And that's so powerful.
♥ Week 3: Letting Go
In Week 3, we spend a lot of time healing, forgiving, and letting go. We leave behind anything that no longer serves us – anything that will hinder us from soaring toward our dreams or reconnecting with our soul.
♥ Week 4: Opening Up
In Week 4, we open up to the spiritual, magical world that has always been around us. We look for signs. We tap into our own intuition. We practice being still. We embrace the feeling of being completely open to it all.
♥ Week 5: At the Heart of it All
In Week 5, we drop into our core and recognize that we are all love. We honor the love within ourselves, and we embrace the love in others. We rejoice that we are no longer alone. We are completely surrounded by love.
♥ Week 6: Leaping and Dreaming
In Week 6, we push past our comfort zones and fully embrace faith. We leap with abandon toward our dreams. We listen to our soul's desire, and rather than question what it is asking us to do, we just do it!
I hope you'll join us! Registration details coming next week!