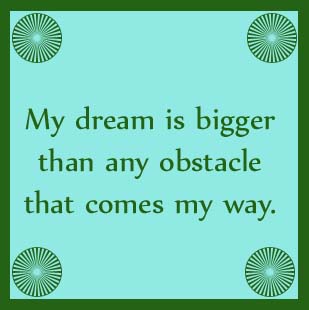 At some point in your life, you will realize that it's time to start pushing.
You will realize that your dreams are just on the other side of your fear and trepidation and insecurity and all of that gunk that you really don't want to deal with and just wish would go away. At some point in your life, you will have had enough. You will stare all of these barriers straight in the face and with more determination than you have ever felt, you will break through them one by one.
Insecurity – gone.
Fear – gone.
Anxiety – gone.
Hesitation – gone.
Uncertainty – gone.
Self doubt – gone.
Inner critic – gone.
And when you do this, every single thing that stood between you and your dreams will dissolve, disappear, vanish. And you will have broken through. You will have pushed through. You will be on the other side of all of this crap that has kept you down for so long.
And it will feel amazing! In that moment, you should definitely celebrate this feeling – this victory. You know why? Because you are in the minority of people who are brave enough to get here. It can be scary to face our fears and insecurities head on – to know that there is so much more on the other side of them – to consciously push through them because we know that our dreams are waiting for us. To realize that the only thing that stood between you reaching your dreams was you.
So take it in. Give yourself some love. And then get ready to soar.
Because guess what?
Once you break through the walls, it is just you and your dreams. Nothing stands between you. Everything that you have ever wanted is just a breath away. And this is wonderful. But because we've never felt this before, it may also feel uncomfortable – even scary. We may cower and worry that we aren't ready. And we may start to create new barriers to keep us safe and keep us comfortable. And this is okay. This is even normal.
Because now you know how to break through. Now you are no longer okay with living without your dreams. You are no longer okay with living a half-lived life. And because of this, you are certain that you will continue to push through and dissolve any barrier that comes between you and your dream – the life you were born to live.
You now know that you are strong enough to do this – strong enough and worthy enough to want this. And strong enough to do something about it. No matter what comes up – no matter what happens – you will keep pushing through.
You were born to live fully. You were born to reach your dreams. And that is exactly what you will do.
***
I just pushed through my own barriers this week and finished the first draft of my book, Coming Back to Life: How An Unlikely Friend Helped Me Reconnect with My Soul! I have been writing it for the past year, and in the process, all of my fear buttons have definitely been pushed.
This book isn't just a piece of my heart – it is my heart. And that is what I give to you. If you would like to learn more about it and sign up to receive updates about the publication date, please click here. Thank you so much for your love and support!
Please leave a comment and share how your life changed when you pushed through your own fears. Or are you like me and in the midst of pushing now? Please share this post on Twitter and Facebook, too! Let's get this conversation going! 🙂

P.S. – The Goddess Circle discount is ending!
You all know how much I love Leonie Dawson – she has created such an amazing, supportive community – and she does it all with her authentic style and flair.
Her Goddess Circle is a warm-fuzzy kind of place where we can all go to support each other in living amazing, soulful lives! If you have been thinking about joining, please do so now! The price is going up on 7/3 to $199 per year. If you join before then, you'll receive over $900 in goodies for just $99!
Here are some of the beautiful offerings that you'll receive when you join:
Become a Business Goddess e-course (value: $79)
Creative Goddess e-course (value: $89)
Radiant Goddess e-course (value: $89)
Creating your Goddess Haven e-course (value: $89)
Divine Dreaming meditation kit (value: $49.95)
Releasing Fears meditation kit (value: $49.95)
Chakra Healing Goddess meditation kit (value: $49.95)
Holy Dinger Uber Deep Zennifying meditation kit (value: $24.95)
2012 Creating my Goddess Year workbook, planner & calendar (value: $9.95)
and bonuses!
If you have been thinking about joining this amazing circle, please click here to learn all about it: Goddess Circle.
I believe in Leonie so much, that I am an affiliate. She is amazing and has such a beautiful spirit – I wholeheartedly support everything she does. If you do join, please come back and let me know – I would love to know how much you love it! 🙂