It's Wednesday, which means it's time to write a post about gratitude!
You can read my previous posts by clicking here.
A few months ago, Donna Kozik (the editor of The Gratitude Book Project) asked me to answer the following question in 200 words: What are you grateful for? My response would be put into an uplifting book, Celebrating 365 Days of Gratitude, which includes one entry per day – 365 people all answering the same question! This is such a wonderful exercise – one that I highly recommend for everyone!
I immediately began to write about how grateful I was for my family – my true love, Dan, and my furry kids. And then (as it so often does), my soul took over and began to type out this message of hope that I am excited to share with each of you. I realized in that moment, that the choices we make have such lasting impacts on our lives. And what's beautiful about them is that we get to choose each and every one of them. This gives me such comfort. And even if I made a choice along this journey of life that I am no longer crazy about, I can choose to make another one today that feels more in line with who I am. And so while I am always and forever grateful to my family, friends, and my life…in this piece, I chose to focus on our choices and how I am eternally grateful for them and for fresh starts.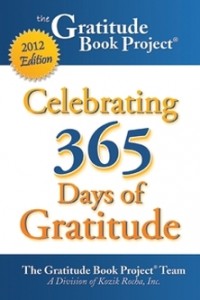 Here is my entry for this book:
Grateful for Fresh Starts
I am grateful that each new moment brings with it the opportunity for a fresh start. The past is now behind us, and we have the chance right here in the present moment to decide our future. Our lives are pieced together by these moments – by these choices. And we move forward into the unknown excited about the possibilities. We get to create our destinies. We get to begin anew.  We get to decide who we want to be – how we want to live – what we would like our legacy to become. Our spirits rise to the occasion – filled with anticipation. Our souls embrace the chance to untie the chains that have bound us to the past – we have learned our lessons; we have grown from our mistakes. We can choose to move forward into this new moment free from the baggage that has weighed us down for so long. And in doing so, we are now free to live on purpose – to answer our calling. This is our moment. And in this moment we dance at the promise of a new beginning. We take a leap of faith toward our destiny, and we soar into our future.
***
This beautiful book is now on sale on Amazon! It makes a wonderful holiday gift – it's filled with heartwarming stories from people just like us who are grateful for everyday moments. What a great way to start the new year – reading one entry per day either in the morning or before you go to sleep. That's what I will be doing! Another great thing about this book is that the net proceeds support the following charities: Feeding America, the American Society for the Prevention of Cruelty to Animals (ASPCA), and Women for Women International. How cool is that?
FREE GIFT!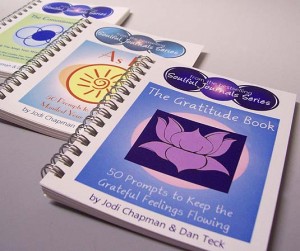 If you order it today, let me know and I will give you our Manifestation Ebook Set for free! This includes three of our bestselling Soulful Journals: The Gratitude Book, As If, and The Commitment Book!
If you were asked to write down what you are grateful for in 200 words – do you know what you would write? Perhaps you could take some time today and find out. If you do, please share it here – I would love to read it!
There is always so much to be grateful for, isn't there?