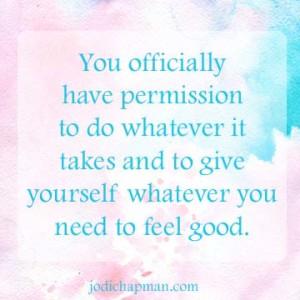 Lately, I've been on a self-care kick – meaning that, for the first time in my life, really, I'm embracing self care fully and completely.
I almost feel like I've gone for so long without it that I'm starving for it, thirsty for it, and completely insatiable for it.
For most of my life, my default setting was to push myself and go, go, go until I simply couldn't go any longer. I would end up getting some horrible illness – one after the other – in order to help me find balance again and slow down. And yet, while I was healing from one illness to the next, I felt completely impatient and frustrated that it was keeping me from whatever I was meant to be doing – although, I honestly wasn't even sure what that was most of the time because the majority of my actions came from outside of my soul's wisdom. They were either things that I felt I should do or things that I felt someone else wanted me to do or things that one just did. I hadn't realized (at least not fully) that I had a choice in the matter – that I could ask myself what felt right and allow myself to do whatever that was.
For me, conscious self care was a foreign concept – a frivolous notion – that may have worked for others, but wouldn't work for me. I didn't need to stop and take care of myself, I thought. I was strong and could push through and could get more done if I kept going. Blah. Blah. Blah.
Well, I now know without a doubt that this just isn't true. I can't keep going without taking loving care of myself. I can't live a life that doesn't include self care. This last illness of adrenal fatigue was serious enough that I wasn't always sure I was going to pull through. My body and soul finally got my attention, and for the past two years, out of necessity, I began pulling myself away from my "duties" one by one. I began to simplify my life and get in touch with what feels good for me – with what makes me happy. I had a lot of time to evaluate what was working and what wasn't.
What I discovered (which has been a complete surprise) is that I actually like taking care of myself. And the more I do it, the better I feel. And the better I feel, the more I want to take even more care of myself so that I can feel even better. (For me, "better" means more at peace and healthy and happy and content.)
In many ways, I feel like a completely different person now because of all of this love and nurturing and permission that I've been giving to myself. I now see self care not only as something that must be on my priority list, but at the top. Life just works better this way. I am so much happier this way.
During this time of self-care discovery, I have honed in on what my own self-care non-negotiables are: those things that I am absolutely in no way willing to give up ever again. I'm sharing them here with you now for a couple of reasons: first to honor where I am right now and remain as authentic as I can and also to invite you to create your own list, too.
So, without further ado, here are my self-care non-negotiables: 
Sleep in as long as my body wants to.
Ease into the day and not have anything time-sensitive to do before 1 pm.
Drink hot lemon water with Himalayan salt each morning.
Spend time with Dan in the sunroom each morning – chatting about our dreams, checking in with how we're feeling, talking about the day ahead, and just enjoying being together.
Eat a salad for lunch and drink a green smoothie in the afternoon. And continue putting healthy food into my body each day.
Go to the beach at least 3 times a week and walk along the shore (bare feet, if possible)
Spend time in our hammock – simply relaxing.
Minimize time on the phone to the absolute minimum.
Only wear clothes and shoes that are comfortable and that I feel good in.
Eat lunch outside (weather permitting).
Continue tightening my friendship circle so that those around me (in person and energetically) are those that bring me joy and energy.
No online time or work after dinner.
No online time during the weekends.
Take 1-2 days off completely each week.
Continue my sabbatical from speaking professionally.
Continue simplifying my life.
Play with and snuggle with my cats each day.
Take at least 2 hours each day for myself – doing whatever feels right.
Take a nap each day with Dan and the kitties.
Focus on what brings me joy and allow myself to move towards whatever that is.
Take vitamins that nourish my body.
I no longer push myself. When I feel tired, I take a break. And if I find that whatever I'm doing is especially draining for me, I take some time to see how I can minimize and/or eliminate it from my life.
Write down the top 3 things that happened during the day and put them in our gratitude jar.
Enjoy game time with Dan, which is a routine that we've done at the end of each day for well over 10 years.
Take an epsom salt/lavender essential oil bath each night.
Read before going to sleep.
Give myself permission to be happy, content, and at peace.
If it resonates with you, I invite you to come up with your own list of self-care non-negotiables as well. I have found it so healing to see what I truly need to feel full and content. And once we know what we need, we can make giving ourselves these things a priority. It's super important. It feels good. And what can be better than that? Truly.
Please feel free to share your lists in the comments below.
Hugs,

P.S. – You can pay whatever you want for our Soulful Love Ecourse this month! Whether you're looking for your soulmate or are already in a relationship and want to grow even closer, our Soulful Love Ecourse can help! Over 2,000 people have already taken it, and we are so happy to share the love with you as well!
http://jodichapman.com/soulful-love-ecourse