I shared something on Facebook yesterday that seems to be striking a chord with many.
It was a post that I was nervous to share – because even though I know that what I'm doing is right for me, I still have that piece that runs very deep within that feels that somehow I should feel bad or guilty for honoring my sensitivity and taking care of my own needs.
Here is the post that I wrote: 
Jodi Chapman
As an introvert, I need a lot of time to recharge after being "on" (around people). While I love connecting with others and it feeds my soul in many ways, I realized that it needed to be balanced with quiet, alone time. So a couple of years ago, I decided that I wasn't going to talk to anyone (besides Dan) during the weekends to create a cocoon for myself. At first, it felt really decadent – like I was getting away with something. But I loved it so much – it felt so healing. A year ago I added on the first week of each month. And again, that felt amazingly decadent, and at first I wondered if it was too much. But it felt so nourishing that I couldn't imagine not doing it. And now, I'm so happy that I'm continuing to honor my own needs by adding on another week. So I'll have 2 weeks "on" each month and 2 weeks "off." It's such a beautiful balance that feels really good in my soul. I'm extremely sensitive to energy, and this is a way to honor my own needs while still be able to connect with others. I'm feeling so good about this change – it feels so loving and empowering. Our bodies are always talking to us, and listening to mine and doing what it asks without judgment has changed my life in such beautiful ways.
In writing this, I felt both exposed and free. I felt like I came closer to sharing my truest self – the self that I have shied away from sharing for most of my life for fear that I would be seen as antisocial or different or "bitchy" or uncaring or aloof.
I have always been a combination of introverted and sensitive, and I have always loved being alone and immersing myself in quiet and stillness. There is no better feeling for me than turning off the phone, pulling the shades, closing the door, and knowing that my time is my own. It's in these moments that I feel like I can exhale – like I am home.
As a child, I spent hours and hours alone in my bedroom. I was so sensitive to energy and wanted so much to be alone that closing my bedroom door wasn't always enough. I loved going into the closet and closing that door as well. I would bring in a blanket, some candy, a book, and my journal and spend hours at a time in my cocoon. It was pure heaven.
As I got older though, I started to feel that this need for solitude wasn't normal. I started to sense that this wasn't something that I should share with others if I wanted to fit in. I didn't want to appear to be antisocial. So I kept this secret of needing to recharge to myself, and I subconsciously came up with "appropriate" ways to find time to be alone – by getting sick. No one questions that. When you're sick, you get plenty of time to rest and recharge. So that's pretty much how I spent my 20s. When I got to my 30s, however, I no longer wanted to use this excuse. I wanted to honor my introversion and my sensitivity. I wanted to claim them as the gifts that they are.
So I began to take steps to consciously and unapologetically share my true self with others. I made a decision that I would no longer hide who I was from the world. I knew that this need to be alone wasn't something to feel ashamed of. It didn't mean that anything was wrong with me. It just meant that I needed extra time to connect with my soul in order to recharge. That's all.
Not everyone has understood this need for quiet – especially as the amount of time that I need grows. But my true friends have learned that it's who I am –  they honor this part of me and want me to be happy. They know that if they want to have a relationship with me, this is part of the deal.
For so long, I carried so much guilt for moving away from others in order to honor this need for silence and stillness. I now see that it's not so much that I'm moving away from them – it's more than I'm moving toward myself. I'm moving toward my connection with my soul, with the divine, and with all that is.
I'm realizing that the more I support others and give to others and offer love to others, the more I need to support myself and give to myself and love myself. I spend so much of my time connecting on a deep level with beautiful souls, and I'm much better able to support them if I'm all recharged and ready to go! And while I'm setting these boundaries for myself, it does help to know that others will benefit as well. It somehow makes it easier to do and to stick with.
I've also found that as I raise my vibration, my sensitivity heightens. As I move into the world of the soul, my awareness increases and my spirit vibrates on a higher frequency. It's amazing and magical to experience, but I also am learning that in order to ground myself in my human body, I need to make space for much more alone time than I previously may have needed.
It's all part of the journey. And, based on the feedback that I've already received to my Facebook post, I see that I'm not alone in this. So many of us are sensitive and introverted and are consciously raising our vibration. I love knowing that we can relate to each other and can support each other as we honor our bodies and our souls and give ourselves what we need in order to function at our highest, most loving level.
Our sensitivity is a gift that is meant to be nurtured and cherished. And giving ourselves time alone to honor our needs is such a beautiful way to walk through life.  
If you aren't already giving yourself this gift, please do. Your body and soul will thank you in such loving ways. We're all so deserving and so worthy of this conscious kind of self love and self acceptance.
Hugs,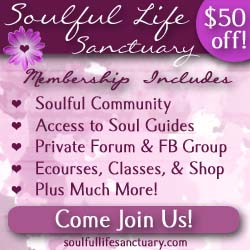 P.S. - Just a few days left to join the Soulful Life Sanctuary and receive the discount and bonus gifts! These specials go away at the end of the month!
Many have asked about extended payment plans, which I'm definitely open to! I also have an Angel Fund that you can receive from. Please email me (
support@soulfullifesanctuary.com
) if you would like to chat about it.
This is such a loving community of over 100 beautiful souls so far, and I would love for you to be part of it, too!
Also, we're starting the Coming Back to Life Ecourse group session together on August 1st! (The course is included in your sanctuary membership.)
Click here to learn more and join us: http://www.soulfullifesanctuary.com/