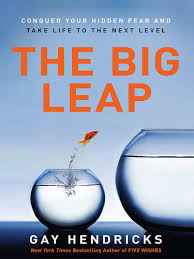 Several years ago, I read a book by Gay Hendricks called The Big Leap. In it, I was introduced to what he called our "Upper Limit Problem."
He explains how each of us has an inner thermostat that determines how much goodness we will allow ourselves (such as love, happiness, positive feelings, etc.).
So what happens is when we go over our limit, we subconsciously bring ourselves back down in order to get back to our comfort zone. He goes on to say how our upper limit is usually set in childhood – well before we are even aware that it is happening.
As a child, I learned that too much happiness was bad.
My mom was always tired and worried and stressed, and I was constantly yelled at by my step-dad for laughing and for having fun. I was allowed to be happy to a point, but beyond that I was chastised.
If I had friends over, we would normally talk in whispers so as not to upset him. Unless we forgot (because we were kids), in which case he would scream at us to be quiet. (I eventually learned to go to their houses instead.)
He even had a rule that there was to be no laughing at the dinner table. If my sister and I did laugh, we would be sent to the laundry room. (This is where the cats ate, and he said that if we were going to behave like animals, we would eat with the animals.)
So I learned at a very young age that feeling joy wasn't something I should want to have in my life – it was what got you in trouble.
After reading Gay's book, I began to go through my life and notice the patterns throughout when I exceeded my happiness upper limit and needed to somehow bring myself back down to the known.
For example, when I was in college, I received a scholarship to study in France. I was so excited about this and couldn't wait to go. But the month before I was scheduled to leave, I got so sick that I needed to be hospitalized and didn't end up going.
When I was 19, I moved to New Mexico to attend college. For the first time in my life, I was living alone in my own apartment. I was so happy and felt like an adult. Just three months into this round of happiness, I got really sick and ended up having to move in with my mom.
When Dan and I first started dating, I was happier than I had ever been. I was in the clouds and my heart was full for the first time in my life. And just a few months into our relationship, I was in a horrible car accident – the impact of which I still feel 13 years later.
Throughout my life, I have subconsciously used illness in one form or another to bring me down into the known when I have felt "too happy." It's a pattern that has been with me since I was a child, and I just realized that it is still continuing.
I have been so, so happy about the Soulful Life Sanctuary. It's my home away from home. It's my heart, my soul, my life. It's a culmination of everything that I have wanted to share, and it's such a beautifully loving space. I feel such a sense of inner contentment and joy and elation and groundedness each time I'm there (which is quite often).
I have been flying so far off the ground in a loving state of bliss for the last few weeks, which has been amazing. Yesterday, however, I received some medical news that brought me right back down to the ground – that completely took the wind out of my sails. I had some moles biopsied that came back as precancerous, which means I have to have them removed and go in every three months from now on. Upon first hearing this, I was shocked and scared and felt utterly defeated.
And then I remembered (with Dan's help) this whole upper-limit concept, which made so much sense.
I saw that this was a pattern that I've repeated throughout my life. And I realized that I get to decide when it stops. I get to decide if I'm going to raise my upper limit and allow myself to feel happiness. I get to decide if I'm ready to release this conditioning that I learned as a child and take back my life as an adult.
And I'm ready, so ready, to do that right now.
Because I am no longer okay with allowing someone else's beliefs to have any bearing on how I live my life. I am no longer okay with giving away my power to someone else. And I am no longer okay with bringing myself back to the floor anytime I feel happy and full of joy.
I want my upper limit to have no upper limit. I want it to reach higher than the sky – to be completely limitless. 
Because I know how powerful our thoughts and beliefs are, I know that this is something that I can change. I know it.
And I'm so grateful for this wake-up call. It has helped me see that my upper limit was much, much lower than I realized or than I want. And now that I am aware, I can do something about it – I can raise it.
And that feels pretty great.
If you haven't read Gay's book, I highly recommend that you do. Whether you have read it or not though, I would love to hear how you're planning on raising your own upper limits in the comments below.
We are all so powerful. The first step for changing any part of our lives is being aware. And recognizing where our upper limits are is a great way to break through them.
We all deserve to be happy. Really. And I'm definitely ready to claim this birthright. I hope you are, too. 
Hugs,

P.S. – Less than 2 weeks left to receive the $50 discount + over $800 in bonus gifts when you join the Soulful Life Sanctuary! You can read all about it here (including some loving testimonials that brought tears to my eyes): http://www.soulfullifesanctuary.com (Remember the Angel Fund is here if you would like to receive from it in order to join.)